Indians head to 1A title tilt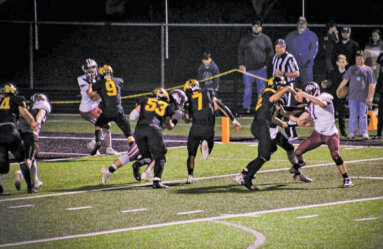 PHOTO BY LINDSAY DEBOLT
Milan's high-octane offense of late was slowed down considerably last Friday night but the host Indians put their trust into the defense, using a proverbial brick wall to hold off Tri 14-8 in the Class A Sectional Football Semifinals.
The Class A No. 12 Indians are now just one game away from their first sectional championship since 2016.
Two teams with plenty of weapons on offense were both held to under 300 yards and a defensive battle ensued through all four quarters of play. Milan would score in the first quarter on a touchdown run by Mason Green and an extra point by Logan but defense starred for the remainder of the first half as the 7-0 advantage stayed intact. It was a repeat scoring performance for Green in the second half when his second scoring run and another extra point by Burton made for a 14-0 lead in the third quarter.
Tri (7-4) finally broke through later in the third, enough to where the rest of the ballgame kept fans on both sides on the edge of their seats. The Titans saw quarterback Cole Melton connect on a 24-yard touchdown pass to Graham Melton and Tri's offense stayed on the field, successfully making good on a two-point conversion attempt on a pass from Melton to Isaiah Dewitt to cut the deficit down to 14-8 with still a full 12 minutes to play.
But Milan locked back down in the fourth quarter. Despite not being able to pull back out in front by two possessions, the black and gold relied on its defense one final time, thwarting Tri's offense in the end including a late quarter stop on fourth down to seal a bid to the sectional championship game.
Tri was limited to just 241 yards on offense and eight first downs in the game. Burton and Dylan Offill both recorded an interception which were returned for a combined 17 yards.
The Indian offense kept the ball on the ground most of the night with Mason Green's two touchdowns pairing with 12 carries and 95 yards. Austin Green had 13 carries for 80 yards and Burton rushed for 48 yards on eight carries. Quarterback Wyatt Marsh rushed for 14 yards on three carries while also throwing for 29 yards on 2-of-5 passing.
Burton had both of those catches from Marsh. In addition to Burton's contributions on special teams, Jeremiah Johnson booted two punts for a combined 74 yards.
Milan (8-3) hosts its sectional nemesis in Class A No. 15 North Decatur (8-3) as part of this Friday night's championship game. The defending champion Chargers bashed Edinburgh 63-0 in the semifinals last week.