Indians, Lady Bulldogs win county track titles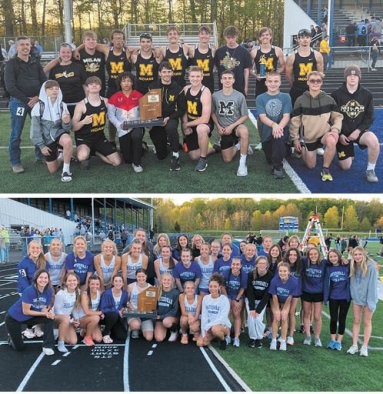 PHOTOS COURTESY OF BATESVILLE AND MILAN ATHLETICS Milan's boys track and field team captured their first county title in program history on Thursday while Batesville's girls repreated
Milan's boys track and field team earned county supremacy for the first time in program history and Batesville's girls repeated as champions at the 2023 Ripley County Championship Meet at Batesville on Thursday night.

The first county title for the Milan boys paired up with four different meet records being set on Thursday. A highly-anticipated night out on the oval definitely did not disappoint.

Much like the cross country version of the county meet, Milan and Batesville were the top contenders on the boys side and it was the Indians out dueling the Bulldogs yet again, scoring a 102-87 victory. South Ripley placed third with 32 points while Jac-Cen-Del was forced to deal with a depleted roster in select events and finished fourth at 17 points.

The Milan boys set two new meet records. Austin Green recorded a height of six feet and two inches to win the high jump, breaking a record of six feet set by Batesville's William Gunter in 2021. The 1600 relay squad of Gabe Riehle, Ethan Dehamer, Ayden Potts and Ben Riehle won the 1600 relay in a blazing speed of 3:32.66, breaking the previous mark of 3:33.78 that was set by the Batesville quartet of Mike Hoeing, Connor Jeffers, Jordan Walsman and Hayden Merkel in 2012.

Ben Riehle won three other events, crossing first in the 100 dash at 11.57 seconds, the 200 dash at 23.16 seconds and the 400 dash in 50.05 seconds. Ayden Potts won the 800 run in a time of 2:07.36 and followed it up with a first place in the 1600 at 4:48.75. Mason Green was a winner in the 300 hurdles at 44.04 seconds, Brady Werner won the long jump at 18 feet and 7.75 inches and the 400 relay team of Werner, Austin Green, Mason Green and Jonny Volk was the winning team at 45.75 seconds.

The Most Valuable Performer of the Ripley County Championship was given to Ben Riehle, a junior for the Indians. It is his second MVP award of the season.

The following were second and third place finishers for the Milan boys: Second Place – Volk, 100 dash, 11.62; Volk, 200 dash, 23.37; G. Riehle, 800 run, 2:07.43; G. Riehle, 1600 run, 4:50.07; Lucas Cooney, 3200 run, 10:39.53; M. Green, 110 hurdles, 18.40; A. Green, long jump, 18'7.5;" Abe Hudepohl, shot put, 40'4;" Cooney, Dehamer, Alex Wenger and G. Riehle, 3200 relay, 9:11.50. Third Place – Potts, 3200 run, 11:05.73.

Batesville's Cannon Clark, Benjamin Adams, Deev Ranka and Jake Chapman won the 3200 relay in 9:01.98 before Chapman went off on his own to win the 3200 run in a meet record time of 10:13.81. The old record had been set in 2021 by former Bulldog Ean Loichinger in 10:18.62. Hudson Kohlman was responsible for the final Batesville win, earning top honors in the pole vault with a leap of 10 feet.

Second and third place finishers for the Bulldog boys were: Second Place – Blake Hornberger, 400 dash, 54.51; Emi Lopez, 300 hurdles, 48.23; Ayden Eckstein, high jump, 6'0; Trenton Jordan, pole vault, 8'6;" Will Westerfeld, Syahrul Azmi Destriantoro, Mathias Davalos, Noah Davis, 400 relay, 46.38; Ranka, Clark, Davalos, Hornberger, 1600 relay, 3:44.75. Third Place – Davis, 100 dash, 11.91; Hornberger, 200 dash, 24.36; Ranka, 400 dash, 54.84; Clark, 800 run, 2:09.83; Clark, 1600 run, 4:57.92; Cole Rudolf, 300 hurdles, 48.81; Eckstein, long jump, 18'6.5;" Conner Ertel, discus, 110'6."

William Tunny put together a first and third place finish for South Ripley in individual events, winning the 110 hurdles in a time of 16.66 seconds and placing third in the high jump at five feet and 10 inches. He then joined up with Carson Fisk, Jacob Ivy and Joseph Davis for a third place ribbon in the 400 relay at 48.12 seconds. Fisk, Ivey, Joseph Davis and Kristian Demaree ran third in the 1600 relay while Fisk, Jordan Davis, Luke Bradley and Hayden Hooten finished third in the 3200 relay in a time of 9:21.60.

Ryan Gorrell threw 35 feet and seven inches for third place in the shot put and was fourth in the 300 hurdles at 50.60 seconds. Other fourth place finishers for SR included Ivey in the 400 dash (55.65), Fisk in the 800 run (2:17.62) and Daymon Speer in the 110 hurdles (19.86).

Corbin White gave Jac-Cen-Del a county champion in two events. White won the shot put with a hoist of 43 feet and 8.5 inches then won the discus with a throw of 119 feet and two inches. Cole Patrick, Braydon Comer, Evan Rinear and Zachary Yeary ran fourth in the 400 relay in 52.29 seconds and the team of Payton Amberger, Comer, Berkley Williams and Cameron Reatherford was fourth in the 1600 relay at 4:25.54. In individual events, Yeary went fifth in the high jump at five feet and six inches and Evan Rinear was sixth in the long jump at 16 feet and 3.25 inches. Reatherford had back-to-back sixth place spots in the 800 at 2:24.53 and the 1600 at 5:38.62 B'ville was a big winner in the girls portion of the county meet, winning with 134 points while South Ripley placed second with 70 points. Milan fended off JCD for third place, scoring 18 points while the Lady Eagles ended the night with 10 points.

All three Lady Bulldog relay teams were winners. Madelyn Pohlman, Ella Moster, Kamryn Dozier and Katie Lipps won the 400 relay in 53.70 seconds and Addison Luers, Megan Allgeier, Dozier and Ava Hanson were winners in the 1600 relay at 4:31.02. The team of Kaylie Raver, Sophie Myers, Emma Weiler and Hanson won the 3200 relay in 10:40.55.
Batesville had 11 other winners. Veronica King was a double winner in the shot put at 31 feet and 11 inches and the discus at 99 feet and four inches. Hanson took the high jump in four feet and 10 inches and the 400 dash in 1:02.67 while Madelyn Pohlman was a winner in the long jump at 14 feet and 10.25 inches and Cora Deputy was the county pole vault champion at eight feet. The final five winners for the Lady Bulldogs included the following: Lipps, 200 dash, 27.42; Raver, 800 run, 2:35.10; Allgeier, 1600 run, 5:43.14; Kaylynn Bedel, 3200 run, 12:13.58; Moster, 300 hurdles, 50.78.

Second and third place finishers for Batesville's girls were: Second Place – Pohlman, 100 dash, 13.52; Pohlman, 200 dash, 27.70; Luers, 400 dash, 1:02.67; Allgeier, 800 run, 2:37.32; Weiler, 3200 run, 12:33.15; Isabelle Raab, pole vault, 7'0; Ryan Oesterling, shot put, 28'6.5;" Sarah Bedel, discus, 86'10." Third Place – Lizzy Nobbe, 100 dash, 13.89; Myers, 1600 run, 5:48.82; Moster, 100 hurdles, 16.97; Deputy, 300 hurdles, 55.07; Deputy, high jump, 4'6."

South Ripley's Emily Flood was named the Most Valuable Performer of the girls meet, her second MVP award of the season. She led all individuals in points scored on Thursday night. Flood set a new county record and school record time in the 100 hurdles event with a time of 15.23 seconds. Both marks had been previously set by her. She also won the 100 dash in 13.27 seconds, was second in the high jump at four feet and eight inches and placed third in the 200 dash at 28.24 seconds.

Other second and third place finishers for the Lady Raiders included: Second Place – Shelby Bastin, 1600 run, 5:45.86; Alexa Yeomans, 100 hurdles, 15.97; Yeomans, 300 hurdles, 53.22; Yeomans, long jump, 14'6.5;" Avery Andrews, Chloe Ivey, Kylie Demaree, Hailey Ortiz, 400 relay, 1:00.83; Ortiz, Ivey, Jennifer McIntosh, Andrews, 1600 relay, 5:22.49; Mady Tingle, Mya McNew, Demaree, Kylie Betz, 3200 relay, 15:32.81. Third Place – Bastin, 800 run, 2:51.34; Bastin, 3200 run, 13:13.97; Demaree, shot put, 25'1.5."

Milan's Josie Havlin and Anna Herzog each racked up a third and fourth place finish. Havlin was third in the 400 dash at 1:05.57 and fourth in the 800 run at 2:55.60 while Herzog placed third in the long jump at 13 feet and 11.5 inches and fourth in the 400 dash event in a time of 1:08.94. Elly Potts ran fourth in the 1600 run and 3200 run at 6:26.22 and 13:41.23 respectively. Emma Carpenter racked up another fourth for the Lady Indians in the 100 dash in 15.20 seconds.

Jac-Cen-Del's 1600 relay squad of Emma Wagner, Allison Peetz, Allene Peters and Kinsey Rohls ran third in a time of 5:44.16 and Brynn Negangard threw 67 feet and nine inches for a third place finish in the discus. Peters went on to a pair of fifth place finishes in the 800 run (3:01.39) and the 1600 run (6:48.34) while Peetz was fifth in the 300 hurdles at 1:17.31 and Negangard threw 24 feet and five inches for fifth in the shot put.

All four schools are now inside the final week of the regular season. Batesville competes tonight in the Eastern Indiana Athletic Conference Championship at home while South Ripley, Milan and Jac-Cen-Del are in Versailles this evening for the ORVC Championship.