Indians make history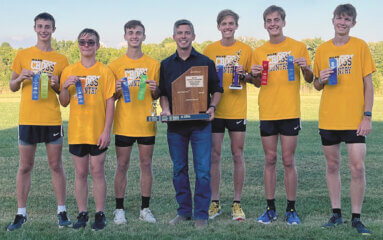 PHOTO COURTESY OF MILAN ATHLETICS
One county school maintained its spot atop the cross country throne while another wore the crown for the first time in program history as both Milan and Batesville won the Ripley County Cross Country Championship last Thursday in Versailles.
The race was run on South Ripley's home cross country course nearby the school at the Ohio Rod property. County championship venues alternate between the four competing schools each fall.

Milan's boys cross country team provided the headline story on Thursday as the Indians captured their first-ever Ripley County title, fending off defending champion Batesville by seven points in a thriller. The black and gold scored 24 points while the Bulldogs were forced to finish runner-up with 31 points. South Ripley was third at 82 points and Jac-Cen-Del placed fourth at 101 points.

The Indians were well aware they had the personnel to deliver on a championship and Milan's pack delivered, including laying claim to the county individual title as junior Ben Riehle crossed the finish line in a winning time of 17:02. Four other Indians placed in the top 10 out of 26 total runners. Freshman Gabe Riehle was runner-up in 17:35.80 while Ayden Potts and Lucas Cooney went back-to-back in fifth and sixth place in times of 18:28 and 18:48.20 respectively. Nathan Voss was 10th place in 19:23.90. Ethan Dehamer was the final Milan runner, placing 15th at 20:26.50.

Batesville made good on the remaining spots in the top 10 to easily distance itself out from both South Ripley and Jac-Cen-Del. Jacob Chapman and Isaac Trossman, both sophomores, placed third and fourth in respective times of 17:36.60 and 18:08. Paxton Harris was seventh in 19:10.10, Eli Loichinger was eight in 19:14.70 and Deev Ranka was ninth in 19:21.50. Cannon Clark and Cash Myers, both freshmen, finished 11th in 19:34.60 and 12th in 19:48.90.

Milan's top five and Batesville's top five made up the entire All-County team in boys cross country.

South Ripley packed five runners into the top 20 led by sophomore Luke Bradley in 13th at 20:11.10 and Bradley Leach in 14th at 20:24.90. Joseph Davis was 17th in 20:48.80, Evan Eaglin was 18th in 20:53 and Ryan Gorrell was 20th in 21:19.40. The final Raider runner was Jordan Davis in 24th at 25:52.10.

Marshall Johnson was 16th in 20:34.60 and led Jac-Cen-Del's boys team and Cameron Reatherford was 19th at 21:02. Peyton Amberger (22:22.90), Dylan Ricke (22:38.20) and Jacob Ricke (22:48.60) placed 21st, 22nd and 23rd respectively. Seth Dornbach and Gabriel Maloney rounded out the Eagles, finishing 25th in 26:02.60 and 26th in 26:48.10.
Batesville and South Ripley were the only two schools to field complete girls squads with the Lady Bulldogs winning yet another county championship with a perfect score of 15 points. The Lady Raiders scored 48 points for the second place finish.

With the perfect score, the Lady Bulldogs put runners into the top five spots of the individual standings, led by county champion Kaylynn Bedel who won the race by over a minute. Bedel, a sophomore, finished in 21:02.60 and senior Ava Hanson was runner-up in 21:03.70. Another senior in Sophie Myers placed third at 21:04.90, Kaylie Raver ran fourth in 21:23.10 and freshman Lexiyne Harris was fifth in 21:37.70. Batesville's final two runners were Charlotte Trossman in seventh at 22:03.10 and Megan Allgeier in eight at 23:01.30.

The entire Batesville girls roster was named to the All-County team. That group was joined by South Ripley's Shelby Bastin and Virginia Minch who finished sixth and 10th in times of 21:52.90 and 25:58.70 respectively. The final member of the team was Milan's Elly Potts as the freshman was ninth at 23:24.80.
South Ripley's Elizabeth McKittrick just missed the overall top 10 and was 11th in 26:45.80 and the remainder of the green and white's roster filled spots 18 through 21 on the leaderboard. A pair of freshmen in Mady Tingle and Makayla Howell were 18th and 19th in times of 40:49.70 and 41:02 respectively. Sophomore Kaitlyn Tingle was 20th in 41:36.20 and classmate Journey Jines went 21st in 43:48.30.

The only other Milan runners were Sarah Lillis and Cheyenne Burns. Lillis, a junior, was 14th in 32:34.30 and Burns, a freshman, was 17th in 40:18.50. Freshman Allene Peters placed 12th for Jac-Cen-Del at 28:19.30 and Allison Peetz was 13th in 29:22.60. Kinsey Rohls and Aliyah Karshner rounded out the Lady Eagles, going 15th and 16th. Rohls finished in 32:34.30 and Karshner was 16th in 40:14.20.

South Ripley, Jac-Cen-Del and Milan all run this evening in the Ohio River Valley Conference Preview Meet in Hanover while Batesville is scheduled to run on Saturday at the Ben Davis Invitational.