Indians rack up 543 yards on offense, rout Rushville in week one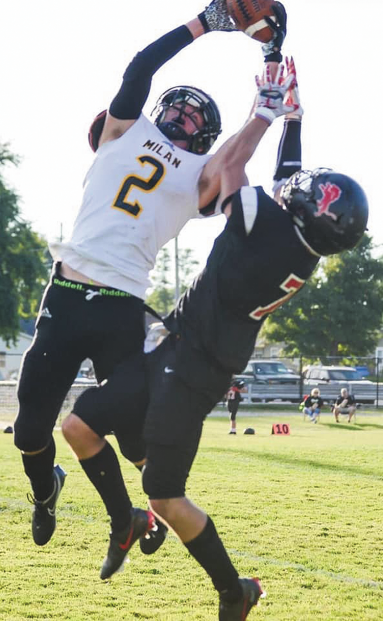 Photo by Teri Bockstahler-Barker
Milan scored twice in the opening quarter and unloaded its vast arsenal on offense en route to a 48-26 season opening win at Rushville on Friday night.
The victory saw the fourth most points put up by a Milan football team on opening night in the last 25 years. Outside of a stretch in the second quarter, the Indians were never threatened and pulled away from the Lions by halftime.

Milan led 14-0 after the first quarter on a one-yard run by Peyton Wert and a 10-yard scamper by Cole Steele that were both followed by Ethan Kaulig extra points.The Indians saw their lead trimmed to 14-12 on a pair of Rushville touchdowns in a nine minute stretch in the second frame but the Lions never mustered a big enough wall on defense to keep Milan at bay.

Logan Reed found the end zone on a 24-yard run that was followed by another Kaulig extra point with 2:25 remaining in the half. Wert went to the air on the final touchdown of the quarter with seconds remaining, connecting with Adam Norman on a 17-yard pass that put the Milan advantage back out to 27-12 at halftime.

Milan´s lead never ventured below 14 points in a second half that saw Steele run for a 19-yard score and Wert connect with Norman two more times including a 58-yard bomb that was the final score for the Indians with 5:33 left in the game. Rushville scored twice in the second half on a pair of touchdown passes from Austin Vance to Jake Vance.

The Indians racked up 543 yards of total offense with no turnovers, putting together a well-balanced attack that included 343 yards on the ground and 200 yards in the air.

Wert was 11-of-14 passing for 200 yards and three touchdowns that all found the hands of Norman who had seven catches for 152 yards. Wert, a senior, also had 148 yards on the ground on 16 carries with a score. Reed led the Milan rushing attack with 155 yards and two scores on 15 carries. Kaulig was 6-for-7 on extra points.

Rushville managed 375 yards of total offense but the Milan defense forced four Lion turnovers. Norman and Wert each had an interception with Wert also recovering a fumble in the game. Jonny Volk and Riley Johnson each picked up a fumble recovery and Chandler Reatherford was credited with a forced fumble alongside Alex Wenger. Johnson led the Milan defense with 11 tackles and Caiden Yorn had 10 tackles.

Milan (1-0) plays its 2020 home opener on Friday night when they look to defend bragging rights against Ripley County rival Batesville in the annual Bell Game.