Indians shutout Twisters 48-0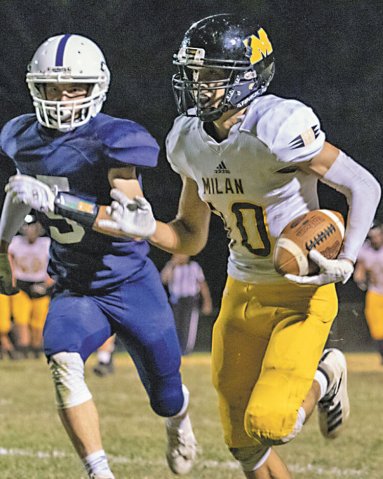 JARED ROGERS PHOTO
The Milan Indians football team welcomed Middle Indiana Football Conference opponents the Oldenburg Twisters to Milan on Friday, October 4 and came away with a commanding shutout victory, 48-0.

The Indians' first strike came midway through the first quarter when quarterback Parker Lewis found Adam Norman for an 11-yard touchdown catch. Just prior to that play, running back Cole Steele picked up a big first down for the Indians. The first quarter concluded with the score still set on 7-0 in favor of Milan.

The offensive engine revved full bore for the gold and black in the second quarter, where four touchdowns brought the halftime score to 35-0 in favor of the home team.

The first two scores of the quarter came on the ground with runs by Peyton Cavins and Cole Steele. Cavins ran for seven yards into the endzone while Steele ran for six. Cavins enjoyed 86 total rushing yards on the night, while Steele followed closely behind with a total of 73 yards.

After those runs, QB Lewis found Peyton Wert for two touchdown passes. The first completion was for a 14-yard score, while the second was for a 46-yard catch and run combo executed by Wert as the half drew to a close.

Wert took over quarterback duties in the second half and found receiver Carsyn Ascherman for an 11-yard touchdown completion in the third quarter.

Wert topped off his impressive performance by intercepting a pass on defense late in the third quarter and running it back for a touchdown. Between catches, throws, and interceptions, the junior standout enjoyed four trips to the endzone on the game.

The fourth quarter remained scoreless on both sides, resulting in the 48-0 victory for Milan.

The Indians are now 5-2 on the season. They host Providence (Clarksville) at 7:00 p.m. this Friday, October 11. Providence won last year's matchup 42-13, held at Providence High School. The Providence Pioneers were 9-3 for the 2018 season, and are currently 3-4 this year.

The Pioneers and Indians do not have any shared opponents on their schedule to which their relative strength can be compared. However, Milan is currently ranked 13th in Class A and 163rd in the state of Indiana via MaxPreps. Providence is ranked 28th in Class 2A and 174th overall in the state. In Sagarin ratings, Milan is currently listed as 160th in the state compared to Providence's 172nd rating.