Indians stun Cubs in OT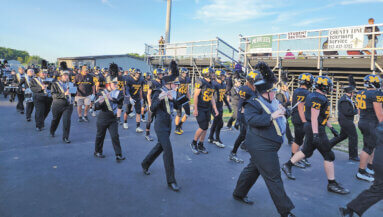 AMY DAVIDSON PHOTOS
Madison football looked poised to pick up its second-straight win of the season on Friday night at Milan but the Indians shocked not only the Cubs but also many in attendance late in the game, scoring all of their points in the fourth quarter and beyond en route to a 21-20 overtime victory.

The come-from-behind win was the first of the season for Milan who unexpectedly started the year with an 0-3 record. It also marks the first football victory on the Indians' new artificial turf field that was installed over the summer.

Defense was the name of the game for the first 36 minutes of the contest as the only score through three quarters was put up by Madison. The Cubs scored with 5:24 left in the first quarter on a Van Skinner 70-yard touchdown run and Clint Hearne extra point to go up 7-0 but Milan put up quite the wall soon after and made sure to stay within striking distance By the time the fourth quarter rolled around, the Indians finally got their offense in a groove and primed to strike.

As a matter of fact, both offenses got into a rhythm. Milan tied the game with 9:09 left in regulation when Riley Johnson ran into the end zone from four yards out and Logan Burton followed with an extra point but Madison responded nearly four minutes later when All-State candidate Colin Yancey broke free for a 73-yard sprint and a score. A missed extra point by Hearne gave way to the Indians tying the game and forcing overtime. Quarterback Brayden Rohrig led his crew to the goal line and punched a touchdown in from one-yard out on a keeper.

Each team got a crack at taking advantage in overtime. Madison led 20-13 after scoring first in the extra frame as Darius Jay hit Yancey for a 10-yard touchdown pass and Hearne knocked down his second extra point of the night. But not to be outdone, Milan put together one final charge, leading to Johsnon running from eight yards out to get the black and gold to within a single point. The Indians opted to risk it all and go for a two-point conversion rather than an extra point and the gamble paid off as Rohrig ran full sprint to the house, providing the game-winning score and sending the Ripley County crowd into jubilation.

Although offense did not translate to scores early, Milan still racked up plenty of yards including 292 yards on the ground en route to 375 yards of total offense. Johnson was the leading rusher, totaling 145 yards and two scores on 30 carries while Rohrig scored once and rushed for 102 yards on 15 carries. Austin Green and Jonny Volk combined for 45 rushing yards.

Rohrig tossed an interception and struggled in the passing department, leading to his extended efforts with the run game. He was 7-of-20 passing for 83 yards with his top target being junior Ethan Pierce who caught four balls for 71 yards.

Madison (1-3) totaled 244 yards of offense -over 100 yards less than Milan- but also ran 34 less plays than that of the Indians. Yancey paced any gain for the Cubs, totaling 102 rushing yards on 11 carries with a score while also catching four balls in the air 27 yards and a touchdown. Skinner finished with 82 rushing yards and a touchdown on 10 carries.

Jay threw his touchdown pass to Yancey and was 6-of-12 on the night for 66 yards. Milan's Austin Green had a single pass deflection while the Indian special teams unit averaged nearly 34 yards on both kickoffs and punts.

Milan (1-3) is at home on Friday and plays New Miami (Ohio). The Indians defeated New Miami 39-6 last season in the first-ever matchup between the two schools.