Indians sweep ORVC swim titles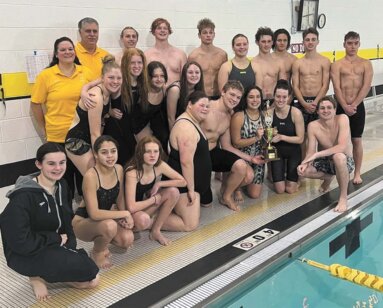 SUBMITTED PHOTO
Milan won five of six relay events and four individuals claimed conference crowns as the Indians repeated as Ohio River Valley Conference champions on Saturday at home.

The annual ORVC Championship meet was held at Milan Elementary School and the Indians defended home territory in a big way. Milan's boys team scored 118 points, distancing themselves from runner-up South Ripley who sat at 42 points and Southwestern (Hanover) was third with 38 points. Switzerland County's 33 points, Rising Sun's 20 points and Shawe Memorial at 12 points rounded out the standings.

On the girls side, Milan was a winner with 83 points, pulling away from Southwestern and its 65 points. Rising Sun was third at 62 points, South Ripley placed fourth with 48 points and Switzerland County wrapped up the day at 39 points.

Relay events piled up for Milan including three winning teams on the boys side. Dylan Thomas, Parley Hartwell, Gabe Rigdon and Abe Hudepohl won the 200 medley relay while Hartwell, Ayden Potts, Parker Sutherlin and Liam Horton were winners in the 200 freestyle relay. Thomas, Rigdon, Sutherlin and Lucas Cooney placed first in the 400 freestyle relay.

The Lady Indians won the 200 medley relay with the team of Ariel Haessig, Taylor Williamson, Emilee Knueven and Hailey Pippin. Williamson, Knueven, Haessig and Margo Keller won the 200 freestyle relay.

In terms of individual conference championships, Hartwell was a double-event winner for the boys, taking top honors in the 200 individual medley and the 100 breaststroke while Thomas also claimed two events, swimming first in the 100 backstroke and 100 freestyle. His backstroke time of 54.16 seconds broke his previous school record in the same event. Sutherlin swam the 500 freestyle and was first in that race. The girls side of the meet saw Haessig earn a pair of victories in the 100 backstroke and 100 freestyle.

The following placed second or third for Milan in the ORVC Meet: Boys – Sutherlin, 2nd (200 free); Horton, 3rd (200 free), 3rd (500 free); Rigdon, 2nd (100 breaststroke), 2nd (100 fly). Girls – Knueven, 2nd (200 free), 2nd (500 free); Williamson, 2nd (200 IM), 2nd (100 breaststroke); Keller, 3rd (50 free).
South Ripley's day was highlighted by three school records being broken. The quartet of Jordan Davis, Thomas Eaglin, Evan Eaglin and Landon Saylor placed second in the 200 freestyle relay and set the school record in that event with a time of 1:54.50 before the same group shaved 30 seconds off the 400 freestyle relay record with a time of 4:24.76 to finish in second behind Milan. In the girls 200 freestyle event, senior Darcie Diem broke her own school, winning the conference crown in the 200 at 2:10.24.

The Lady Raiders also got a boost from Elizabeth McKittrick who joined Diem on the All-ORVC Team. McKittrick won the 50 freestyle in a time of 26.02 seconds.

Three more South Ripley relay teams were top three finishers. Shane McAdams, Jackson McAdams, Thomas Eaglin and Davis were third in the 200 medley relay and Olivia Gilley, Diem, McKittrick and Olivia Kavanaugh placed runner-up in the 400 freestyle relay. Kavanaugh, Diem, McKittrick and Addie Farrell swam second in the 200 freestyle relay.

Individual second and third place finishers for the Raiders were: Boys- Evan Eaglin, 2nd (50 free), 3rd (100 fly); Saylor, 3rd (200 IM). Girls- Diem, 2nd (100 fly); Kavanaugh, 3rd (100 free).

South Ripley swam on Tuesday night at Lawrenceburg while Milan is in action this evening in a three-way meet with host Southwestern (Hanover) and Batesville.