Irma Rohls celebrates 100 years with family, friends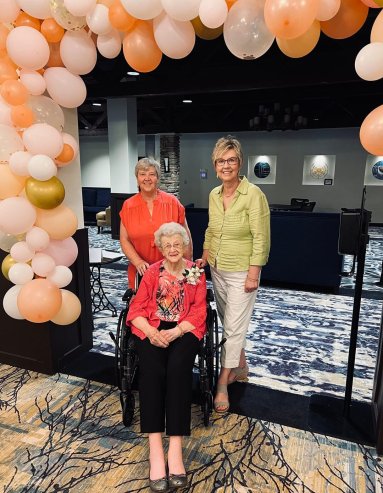 SUBMITTED PHOTOS
A century brings about a lot of change and Irma Rohls has experienced it all. She celebrated 100 years of life with family and friends recently.

"Oh, it was an outstanding experience," Irma spoke softly as she remembered the day and what it means to receive over 160 cards and have family and friends gather at the River Terrace Health Campus in Madison where she now makes her home.

There were many festivities during the month of June to mark the occasion. Irma talked about having her 90-year-old sister Ruth Althoff, who lives in Greenwood, down for a visit, having a wreath of balloons, crab cakes and stewed tomatoes (her favorites) for lunch, and all of the other things lavished upon her for this occasion. The cards, well over 100, were varied in size, shape and design – all congratulating Irma on a life well lived. "She's read every one of them," noted her daughter, Phyllis Armbrecht.

Lots of laughter and a few tears were shared as her daughters, Phyllis Armbrecht and Ellen Mulford, reminisced with their mother in a recent interview with The Versailles Republican.

How does one achieve the goal of living to be 100?

"You get there day by day," Irma said. It's that simple. She loved, she lived and she laughed her way through the years with births and deaths, sickness and health, holding onto her faith.

Born to Henry and Louise Hurelbrink in Dewberry, Irma lived a storybook life of a rural family. This was before electricity, before indoor plumbing. She lived in the days of the one-room schoolhouse, walking about a mile to school in Correct, with transportation being the horse and buggy and later a Model T car. "My mother and the other children's mothers would get together at garden time and make food on the stove in the school," Irma shared. She said her dad and other fathers cut a lot of wood for the school stove and at recess the students stacked wood by playing pick up sticks! "We were having fun!" she exclaimed.

She remembers getting a five-pound block of ice at Hubert Lowe's Creamery on the north side of the square in Versailles, wrapping it in newspaper and burlap and then making delicious ice cream every weekend with her grandparents. Irma was pretty famous for her ice cream and often made five to seven different flavors for the family's Fourth of July picnics.

Irma graduated from the eighth grade with a large countywide ceremony at the Osgood Fairgrounds. She said the Governor or a state dignitary would speak at the graduations that included about five or so schools. Then she attended Versailles High School, and attended the new Tyson School in her junior year – the first year it was built.

Since her mother had always wanted to be a nurse, Irma thought she would take up that career. She began her formal training at Christ Hospital School of Nursing by taking a bus to Cincinnati and then getting on a streetcar for the ride into the hospital. That's where she had a little trouble with her birth certificate. "I guess I had never needed one until then," she laughed, saying the county records were kept by Fallis Funeral Home in Osgood, at the time. When she went to get a copy of her birth certificate there was a problem – she was named James Robert on the paperwork. "They had the date right, June 16, but not the name!"

Irma told about a simpler time when a radio was made out of a cigar box and she had to learn to drive the 1937 Ford when she was only 15 with no license. "My dad was ill on bed-rest when I was a sophomore," she explained. She said, "I just knew I had to put it in second gear to drive down the Madison hill." There, as she parked with satisfaction, she turned to see she had parked right beside the police department.

About her first husband, Arnold "Shorty" Obendorf, and her children's father, she said, "We had one argument." When probed she said it was when she was trying to teach Ellen to play the piano. "He walked outside and said, 'That's not good.'" He was referring to the way she would have Ellen "learn from the beginning" and start all over when she didn't play it right.

But, Irma agreed it all worked out and Ellen had music lessons in Cincinnati at the University of Cincinnati College Conservatory of Music, and learned to play the music she still enjoys hearing to this day.

Irma has many experiences and worked many years, only retiring when she was about 75 from being a school nurse for South Ripley Corporation. She had worked at Reliance and Jefferson Proving Ground after starting her first job at Margaret Mary Health.

She was an accomplished homemaker and mother where she provided many wonderful meals, baked wedding and other specialty cakes, was a seamstress and crocheted. Right up until a couple years ago she was making her own food and trying new recipes. She and daughter, Phyllis, took upholstery classes together, along with her sister-in-law, June. She also learned to refinish furniture and re-cane chairs.

Irma was a pioneer in many ways having been the first woman to serve on the church council at St. Paul Lutheran at Olean, where she still attends today. She also taught Sunday school and sang in the choir and was the organist. She remembers the days of the Delco Plant (before electricity) when a "strong armed man" would have to pump the organ. She belonged to Home Economic clubs, and Farm Bureau, promoting many activities of the home and family.

Living in the age of no electricity to the electronic boom of today, Phyllis said her mother had one of the first word processors and has an ipad, and cellphone where she likes to check her Facebook. She has traveled extensively even going to Germany. When there's a trip planned or some activity she's on board.

When she came to live at River Terrace in January of this year, there were still two states she hadn't visited – North Carolina and Alaska. In March the facility helped her check North Carolina off her bucket list. She flew there, escorted by staff, and stayed at the Biltmore and went to Chimney Rock. Of going to Alaska, she's not sure, but if the opportunity arises and she feels like it – she will go.

As she relaxed in her easy chair, she held a thick novel she was in the middle of finishing. Irma is an avid reader, does crafts, enjoys the library and festivities River Terrace offers. She likes living there, saying, "I've met people I would have never met." She gets her hair and nails done on a regular basis and loves to play Bingo.

Really, Irma is always up for an adventure – which she says life really is – one big adventure that she's been allowed to be on for a long time.