ISP, 911-dispatcher praised for heroic actions that saved a teen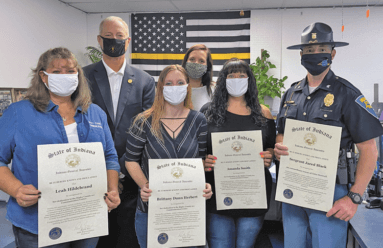 WANDA ENGLISH BURNETT PHOTO
A teen's plea for help as she was trapped in a burning car in the dark of night was met with the calm assuring voice of a 911 dispatcher, "I found you."
Chloe Strassell, 17, was driving down a country road and in a split second her life changed, along with many others, one late Saturday night in August. Her vehicle suddenly was overturned and she knew she needed help. She said it took a few minutes to locate her cell phone and then she called 911.

On the other end of that call was Ripley County E911 dispatcher, Brittany Dunn, who said she knew Chloe was in trouble from the minute she heard her voice and put the process in place that would ultimately save her life. "I think I'm on fire…it's smoky," Chloe disclosed to Brittany.

Brittany maintained a calming presence throughout the call, reassuring Chloe she was right there, and that help was just minutes away. Many people call for help from cellular phones, and, honestly, sometimes they can't be found, according to Amanda Smith, assistant director of E911 for the county. This time everything went smooth, with Brittany saying to Chloe, "I found you", meaning she had pinpointed her direct location and could send help.

Help wasn't but a minute away, as Indiana State Police Squad Sgt. Jared Black just 'happened' to be in the area of 200W and 600N, near Osgood and heard the dispatch go out. The rural area was dark and as Sgt. Black approached, he saw the car was on fire. He told The Versailles Republican all officers carry a tool that allowed him to quickly punch out the sunroof. "Then I took my flashlight to clean around the area." And, just like that, Chloe was out of the burning car with a few cuts and bruises, but nothing major. As the officer was praised for his heroism, he was humble, saying, "I was just doing my job." He, too, sustained cuts from the rescue.

But, State Senator Randy Frye sees it much differently. He knows. He's been there as a retired firefighter for the City of Indianapolis. "There's nothing more important than saving a life," he told them at a ceremony held at the E911 Communication Center in Versailles, Tuesday evening, September 1. He said their actions were "beyond quality…exceptional work." He was armed with proclamations of heroism and flags to be distributed. Proclamations were given to the dispatcher, her supervisors, Amanda Smith, who trained Brittany, and Leah Hildebrand, along with Sgt. Black. American flags that were flown on Statehouse property in Indianapolis, were also given to each person, with the communication center also receiving a proclamation and flag. "No agency could be as good without a good leader," Frye said of Hildebrand, who has been with Ripley County's dispatch center for 26 ½ years.

To Chloe, Rep. Frye said, "You had a rough ride, but, God was shining on you. You was blessed by an angel, or angels, Brittany and Sgt. Black." He presented her a proclamation and flag for her to always remember she had been saved by the "best of the best". He also praised her "good job of keeping calm". Her parents, Melissa and Ryan, were in attendance, with nothing but praise and thankfulness. Many tears were shed, but one of the most poignant moments of the night was when Chloe's mother spoke. It wasn't what she said, "Thank you…we really appreciate all of you." But, rather, the emotion felt from the bottom of her heart that was seen in her tears.

There is much more to the story. Brittany had proven herself only three days after she came on the department when the tornado went through Versailles. She keeps a calm exterior, and even though she's still in training now, Hildebrand says she's a great asset to their team or "family". Smith, who is Brittany's immediate supervisor and assistant to Hildebrand, has been with E911 for 22 ½ years. She echoed her supervisor's words and maintains, "It's training and technology that makes the difference." She said people should always be aware of their surroundings when driving, because sometimes the 911 Center simply cannot pinpoint the exact location when people are using cellular phones. It's much better than in the past, but there's still rural areas that cannot be reached.

Of being the director, from starting as a dispatcher just as Brittany, Hildebrand noted, "It's wonderful…it's God's work, that's what keeps me here." She has told her dispatchers that if they don't have the heart for people, they should look for work elsewhere. It's not just a job, it's a calling – literally!

Laurel Simmermeyer from the State 911 Board was in attendance for the ceremony in Versailles, along with Indiana State Police Lt. Paul Adams. Simmermeyer presented tokens to Brittany, Amanda and Leah, telling them they hold an important role in the service community. She praised Brittany for "a job well done."
Much like when she answers the call at the 911 Center, Brittany was surprised by all of the recognition. She was simply told to come in at a certain time Tuesday evening. When she was told she was being honored for saving a life, she seemed surprised. When people began showering her with gifts and telling her how important her job was, she cried. She says she doesn't feel like a hero, just a 911 dispatcher who is trying to do a good job.

Sgt. Black's wife, Lauren, noted that she was "proud of him" and knows the sacrifices that are made by officers, sometimes even with their lives. It's something she lives with every time he goes to work, and noted she also has a brother who is a state trooper. She doesn't take it lightly, but is supportive of his chosen career.

While some people might believe that the stars were in alignment on that night, Lt. Adams noted, "It was divine intervention." There was a lot of reference to God putting the right people in the right place with the credit not only going to people who said they were "just doing their jobs" but to an awesome God who is ultimately over all. The Lieutenant was proud of Sgt. Black, and thanked him for his quick thinking and actions that played a vital role in saving a young girl's life. He also thanked Brittany for her actions. Now, Chloe can finish her senior year and go on to always know she was saved for a purpose.

Chloe presented Brittany flowers and a card from her for saving her life. There were accolades for everyone involved from a grateful family, and community. And, interestingly enough, no one wanted to take credit for it, they just said God was in control and they were all doing what they do on a regular basis – every day, every hour of every shift.

E911 dispatchers have just this year been declared the first of the first responders. Rep. Frye noted that he (along with others) are working on more legislation for dispatchers hoping to bring them in to the fold with the "line of duty death claim." They are truly the first line of defense and have not been classified as such, or recognized for what they do behind the scenes each and every shift. And, if you ask any one of them, they will just say, "I was just doing my job."

Rep. Frye told the group that a formal ceremony will be held later in the year at the Statehouse, where a Resolution will be signed by Governor Holcomb, or his friend, "Eric" as he calls him.