ISP Trooper hurt when cruiser is hit at traffic stop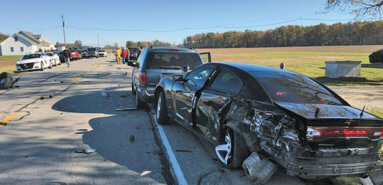 SUBMITTED PHOTO
The "Move Over or Slow Down law for emergency vehicles on the roadway" might have prevented a crash that occurred on Sunday, November 3 when an incident occurred on 421 South of Versailles, if it had been applied.

According to information from Sgt. Stephen Wheeles of the Indiana State Police Versailles Post, Senior Trooper Kyle Black had a 2002 Dodge Caravan pulled over on US 421 northbound near County Road 750 South. The trooper had positioned his vehicle behind the van on the shoulder of US 421 with his emergency lights activated. The vehicle pulled over was being driven by Barbara Ann Matis, 48 of Madison.

As Trooper Black was out of his vehicle, a 2013 Chevrolet Traverse, being driven by Mary Ann Holman, 77 of Holton, crashed into the rear of the trooper's cruiser, which then pushed his vehicle into the one he had stopped.

The report noted that debris from Holman's vehicle struck Trooper Black injuring his leg. He was taken to Margaret Mary Health in Batesville, where he was treated and released.

Holman was taken to King's Daughters' Hospital in Madison to be treated for non-life threatening injuries. Matis complained of pain, but declined to be transported for further medical treatment.

The investigation is ongoing by Trooper Matt Holley, Indiana State Police-Versailles Crash Reconstruction Team.

The Indiana State Police were assisted at the scene by the Ripley County Sheriff's Department, Ripley County EMS, Versailles and New Marion Fire Departments.

Editor's Note: Information for this story was taken from a press release from the Indiana State Police.