It takes a village – Sofia's story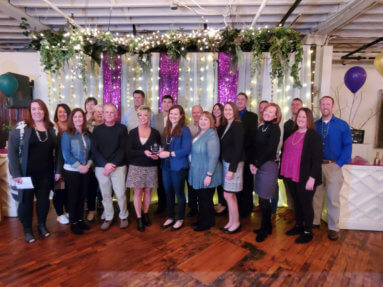 AMY DAVIDSON PHOTO
Several recognitions were made at the Batesville Area Chamber of Commerce's annual awards dinner held March 1 at the Romweber Party Place, Batesville.

The Distinguished Service Award went to Roberta Cook and was presented by Seth Bartal; Phi Beta Psi Sorority, Volunteer Organization Award was presented by Chris Fairchild and Kari Ann Rennekamp; Suzanne Kunkel was given the Educator of the Year award, which was presented by Melissa Burton; with the Southeastern Indiana YMCA being the Organization of the Year, which was presented by Eric Benz, Tara Britton and Angie Harmeyer.

Tara Britton, director of operations with the YMCA, gave Sofia's Story, saying the organization was able to have an impact on a little girl's life thanks to everyone who makes the organization possible.

"When we first met Sofia in the fall of 2020, it was unexpected and after an unimaginable tragedy in her young life. The American Red Cross needed a place to meet with Sofia and her dad to discuss support options and provide clothes for Sofia, who had just lost everything in a fire, including her mother. The Y was just the right place to have, what I call, a 'God moment' in both theirs and our lives. This is a moment in exactly the right time that no one can orchestrate, other than God," Britton noted.

She told how Sofia sat on her dad's lap while those helping the family made plans. Quickly, Britton and Angie Harmeyer came together to get Sofia in the Kids Club before and after school program with the cost of her care covered for a period of time thanks to generous Y donors.

There at the Y, Sofia blossomed, learning to swim and making friends. "Sofia is now thriving! She bounces around the room from friend to friend, with a laugh that'll make you smile," Britton shared.

She said the Y is a valuable community asset helping people on their health and wellness journeys, coming together as families, and helping with childcare needs. "We are also a change agent in southeastern Indiana. We are proud to be a part of the journey in this community as we work to strengthen, uplift, and love each other," Britton said.
Members of the YMCA team were recognized for their service as they received this honor from the Chamber.

Others were recognized with the Chamber saying they give these awards to outstanding business success in the areas of growth, stability and commitment to quality of life and overall contribution to the community.

The Mardi Gras themed event, "It's Time to Celebrate" was well attended with Melissa Tucker, executive director and Erin Telles, office manager of the Chamber, putting the event together.
Chamber Board of Directors include: Jonathan Maple, Melissa Burton, Matthew Tarkington, Mary Huntington, Pete Mack, Mayor Mike Bettice, Heather Goldsmith, Andy Jaisle, Don Mobley, Julie Murphy, Lauren Mynsberge, Ben Peetz, Sarah Pulskamp, and Sarah Lamping.