It's a little scary around here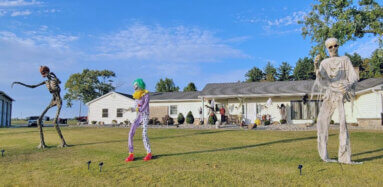 HarleyJo Kennedy Photo
One always knows strange happenings occur on Halloween night, but what about the weekend of the Pumpkin Show!? On September 30, at approximately 11:30 p.m., Terry (Dad), Debbie (Mom) and their daughter, Brandi heard some commotion in front of their house.
The week prior the Esters' had worked long and hard to put up a Halloween display for their neighbors and community to enjoy. Only to have someone come right up to their house. While they were still up! Lights on inside and people home! And steal Jack Skelington from under their very noses!
They observed a truck pull away from across the road, with Jack in the back! Further, they were informed later that a person getting off work from Taco Bell in Versailles, saw a truck that evening going toward Osgood with a fully assembled Jack Skelington in the back!
The Taco Bell employee thought it was "odd" but it is the time of year people would get ready for Halloween, so they did not alert authorities. Unfortunately!
Brandi Esters states "other than Christmas, Halloween is my favorite time of year to decorate for!" She goes on to reminisce that she loves Halloween and the child-like feelings decorating creates for both those who decorate and those who enjoy seeing the displays.
Unfortunately, someone else had some very unfriendly ideas of how to obtain Halloween displays. The Esters's invested time, effort and money to assemble and set up this display.
"New" to the area this year, the Esters' were so excited to be able to display on one of their favorite holidays. Disappointed by the theft, Brandi says "I felt like just taking the entire display down, immediately." They had just had it up one week when the theft occurred.
Fortunately, they discussed it as a family and decided the whole community did not commit the theft and many would still enjoy seeing it! So, they have maintained it. They even replaced Jack Skelington.