It's Red Kettle time!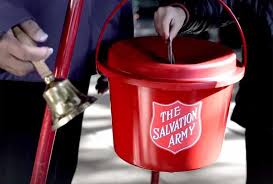 John Whitehair of the Salvation Army has announced the "Red Kettle" campaign has begun at Kroger in Batesville and the Versailles IGA, and will run until December 31. There will also be counter-top kettles located at several businesses in Ripley County and Batesville to receive donations. This year the Salvation Army has helped a significant number of residents in the area with anticipation that need to grow in 2021, according to Whitehair.

The traditional Red Kettle campaign will sound different this year. The red kettles will be in place, but there will be no one standing beside them ringing the bell that was always the familiar sound of the holiday season. "Because of the significant increase in the cases related to the COVID-19 virus this year, the Red Kettle campaign will be without volunteer bell ringers to protect our volunteers, the customers and employees at Kroger and the IGA," noted Whitehair. He said the stores have agreed to have their unattended kettles in their stores.

"We encourage donations at these kettles as the need this coming year will be higher, and many will be unable to contribute due to the virus. In addition to cash, checks can be made out to the Salvation Army of Ripley County and placed in the red kettles," Whitehair said.

For any questions you can contact Mary Jo Fliehman at 812-623-4852 or fliehman@etczone.com or John Whitehair at 812-933-0711 or john.whitehair@etczone.com.
Other businesses with Red Kettle displays include:
Osgood: Caseys, Osgood Mart, and BP.
Napoleon: Napoleon Sunoco Station.
Versailles: Marathon Station and Quickpic.
Batesville: Day-Nite Food Mart, Hobo Hut, Larosa's, Marathon, Schmidt Bakery, Shell, Skyline Chili's, KTS Marathon, and BP.