Jac-Cen-Del always learning more safety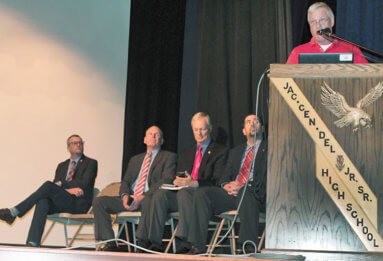 WANDA ENGLISH BURNETT PHOTO
Within 14-minutes a life ended, a school was put on lock down and multiple police agencies responded to the Richmond Dennis Middle School on December 13, 2018 at 8:15 a.m.

Although the time it took to ravage carnage on a school was minimal – days and even months went into the planning of the tragic event – an event the Jac-Cen-Del School Corporation hopes never happens, but they know they have to be vigilant.

Dan Goris, school resource officer put together a presentation on August 1 at the Damm Theatre in Osgood, where teachers, staff, administration and area law enforcement, heard about the event at Richmond, just an hour-and-a-half away.

Goris noted the school already has multiple measures in place for the safety of the students and staff alike, but one more training just couldn't hurt. He noted this is one more tool the teachers and staff have for safety.

He introduced Ryan Stewart, Indiana's Senior School Safety Specialist, who is in charge of all the training across the state to promote school safety. He noted that the state legislature required this training in 1999 after the school shooting in Columbine. The training is free to all teachers, administration, and school staff. Jac-Cen-Del has a school safety team of staff members who have attended the Indiana School Safety Academy.

Also speaking at the safety seminar was House District 67 State Representative Randy Frye. He said since his election in November of 2010, he has worked tirelessly on safety issues. "I have never ever gotten used to seeing an injured child. I can't comprehend anyone who would hurt a child," he told the crowd. The retired firefighter said he's seen a lot in his career and that is why he is always happy to promote bills such as Stop the Bleed, which just went into action this year. There is also funding for every school in Indiana to have three Stop The Bleed kits.

Lt. Jeff Hearon was the featured speaker of the day. As he was introduced, Goris said he has seen everything on the local, state and federal level where he serves the Indiana State Police as a detective, on the SWAT team for 16 years and taught at the Law Enforcement Academy. He wass also in the Marines, prior to joining the ISP.

Lt. Hearon showed a short video of the boy just prior to going to the school at Richmond in December. He noted that there was a 60-pg. report on the teen, who had homicidal ideas and thoughts every day. He had a mental issue, but through a series of events he was eventually taken out of the hospital and off his medicine.

The detective drove home the importance of catching situations such as this one on the home front if possible. He showed a portion of a video where the teen is shown talking about Columbine.

In another excerpt from a video it shows the teen describing what he was going to do. "I'm not stopping until I run out of ammo," he comments. He said he was going to put the whole thing on YouTube, noted he would be famous, and was waiting on a couple others to get back with him. When they backed out, instead of alerting authorities, they just said, well, good luck. Here was another place where public participation could have helped, according to Lt. Hearon. The reason the teen's name was not released was that the Lieutenant said he wouldn't glorify his behavior by giving his name. "He won't be famous," he noted.

There is a definite pattern that leads the teen to his ultimate goal. He did get inside the school, he did have lots of ammunition, but a quick call from his mother to 911 and the savvy school principal saved minutes. With the principal watching closed circuit cameras and letting the police know the exact location of the teenager, lives were saved. In one place where officers could have been killed, they were not, due to this dialogue. The teenager kills himself. The threat has been stopped. The day goes on.

But, the day will never be the same for those involved. Officer Goris wanted to take the opportunity for a teaching lesson for those at Jac-Cen-Del, who are in charge of students. They do have a classroom secure plan. But, any additional help is always welcomed. Goris told those in attendance, "I will never have a drill without letting school personnel know". In other words, if you haven't heard from him, expect it is the real thing and put the plans already learned in place.

Lt. Hearon told the teachers and staff that it is very important to let the students text or call their parents in situations like the one above. "The last thing you want is parents tearing to the school, jumping curbs and needing to see their children." He said if they have a phone, let them make a quick call or text. "It reassures the parents that they are ok," he noted. He has a daughter who teaches school and knows the feeling should something happen where she is located.

Superintendent Ryan Middleton spoke last to the crowd saying the information was "jarring". He said the JCD School Corporation is ever vigilant, always working toward making the school safe. "It's uplifting that we are where we are…but, we can do more," he concluded.

It's ready, set, go, for JCD as students returned for the school year.