Jac-Cen-Del art students get the snow plow ready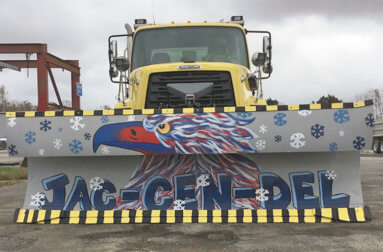 SUBMITTED PHOTO
At the Jac-Cen-Del School board meeting on November 18 it was announced that the art students entered the Paint for the Plow program with the Indiana Department of Transportation. Their design was chosen to be the winner. Their plow will be used to plow snow this 2019-2020 winter season right here in Ripley County.

Students Wesley Edwards, Shai Schmeltz, and Frederik Terhorst made a presentation to the board concerning the Upper Room Cafe Shop partnership. This project is part of their introduction to business class which has had lots of participation.

Fred Unsicker, JCD High School principal, let the board know how far they have come with the greenhouse project and that JCD will partner with the Southeastern Indiana Career Center to help build this greenhouse.

Twenty JCD teachers and/or staff were scheduled to attend the "Red for Ed" rally at the Indiana State House on November 19. The JCD Corporation chose to close in support of "Red for Ed." According to Stacy Gray, who has taught school for the past 23 years, this rally was planned as a peaceful demonstration. Gray stated she's still excited about teaching at JCD. Superintendent Ryan Middleton said the rally is a "quiet peaceful demonstration for change. Rural schools need to be heard. This is not a teacher movement but rather a student movement."

Another teacher, Amanda Hoff, said she feels there is "a different but exciting atmosphere at JCD this year."

Action items that were approved unanimously included:

Hire of RaChelle Davidson as cook assistant in the high school cafeteria effective immediately.

Maternity leave request for Stephanie Volz from approximately February 12, 2020 until March 27, 2020.

The payroll and other claims for November 2019.

2020-2021 school calendar as presented.

In other news, Middleton explained that the current student information system, Information Now, was bought out by Power School and will no longer be supported. Indiana is piloting a new ED-FI system that all schools must comply to. Plans are being looked at as possible alternatives to Information Now. The first reading of the NEOLA policies presented to the board for review. Middleton also explained that the Spanish teacher, Mr. Shuppard, is planning a trip with JCD students to Spain in 2021.

Those present at this meeting were James Westerman, Jason Wagner, Jason Smith, Stephen Huntington, Travis Neal, Fred Unsicker, Trent Whaley, Ryan Middleton, Nancy Means, and other staff and students.

The December 16 school board meeting will be held at the Southeastern Indiana Career Center at approximately 6:00 p.m.