Jac-Cen-Del graduation goes on despite storm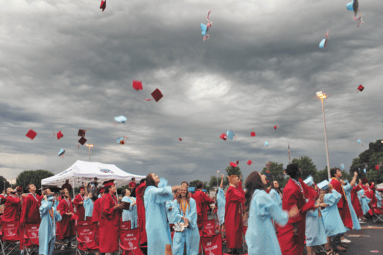 WANDA ENGLISH BURNETT
The 2020 Jac-Cen-Del High School graduation was held despite the looming storm clouds and previous storm that showed what was inside the clouds just minutes before the event was set to take place on Saturday, July 11 at the high school.

"We got notification today from the State that we couldn't hold the graduation inside as planned," Superintendent Ryan Middleton, told the Osgood Journal. At that moment he, along with other administrators, made the decision to move the event outdoors. That was good at the time because the weather was just a hot typical summer day with no clouds in the sky. However, about 6:30 p.m. just minutes before the graduation was set to take place, a storm rolled through Osgood.
Those already at the school building "sheltered in place" between the two school buildings until the storm passed through. Then commencement exercises resumed.

The students quickly came onto the parking lot area designated for them with about 400 of their family and friends sitting in lawn chairs surrounding them. They were called onto the stage and were presented their diplomas, turned their tassels to signify they had graduated, listened to Seth Pohle, salutatorian and Gage Unrath, valedictorian, and then the lightning and thunder came, which dispersed the crowd. But they graduated!

Some of the students had grown weary that this day would ever come. When it was finally there, even though it was hurried and speeches left out, it was what they had been longing for. They walked across the stage, shook the gloved superintendent's hand, got their diplomas, did a fist bump with Principal Frederick Unsicker and were on their way to their next destination.

Class President Cameron Grable led the Turning of the Tassel ceremony. The students were decked out with a variety of cords, which had various meanings. Yellow cords denoted National Honor Society member. White Cords meant they received a Core 40 with Academic Honors diploma. Black cords denoted they had received a Core 40 with Technical Honors diploma. Blue cords denoted Core 40 diploma. Red cords were for those who were Hoxworth Blood Center donors. Blue/gold cords denote Work Ethics certificate and Red, white, and blue cords denoted JAG Program student.