Jac-Cen-Del Hosts Second Annual Renaissance Fair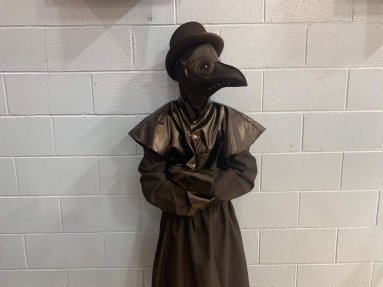 TRACY MCKITTRICK PHOTO
Tracy McKittrick
STUDENTCORRESPONDENT
There's a knight in shining armour standing in the gym at Jac-Cen-Del Jr./Sr. High School. Surrounding him are canopies containing medieval-themed food stands, a jousting stand, and a plague doctor decked out in leather and a long, bird-like mask to show us the primitive medical technology of the 1500s.
This is Jac-Cen-Del's second annual Renaissance Fair, hosted by the World History classes taught by Mr. Jason Walke and Mr. Eric Linville. In the 2019-2020 school year, the event was held in December, but it was moved to May this year in light of the pandemic. Extending the planning window by five months gave the students more time to strategize about leaving their unique imprint on the fair.

"I believe the Renaissance Fair last year was very unorganized but all around not that bad," says Allison Mosier, representing the fair's marketing team. She does, however, admit being inspired by her predecessors. "The canopy tents from last year played a big part in this year's ideas and thoughts."

While Mosier is a member of the marketing team, there are several other groups who worked to make the Renaissance Fair a success. "… we have been split into teams from the royalty, peasants, warriors, and marketing, to name a few. All these groups are assigned to work on one particular part of this event." Reflecting their roles, each group is given their own booth. "This strategy was designed to make the Renaissance Fair bigger and better than ever," says Mosier.

The World History students found ways to integrate current events with their booths. "We are excited that we have added an infirmary this year," says Walke. "This booth will help show how patients were helped during the plague and how that compares to our COVID pandemic." Speaking about the infirmary, Linville says, "The infirmary allowed students to witness what plague doctors looked like and what tools they used to fight infectious diseases."

The fair's organizers also made other changes to accommodate and acknowledge current realities. "We have hand sanitizing stations as well as limiting the number of participants able to come through during each period," says Walke. Linville adds on, stating, "Last year we opened to the public, but were unable to do so this time around. We hope that for 2022 we'll be able to invite all of the community back."
The Jac-Cen-Del Renaissance Fair is a new tradition for the school and students were excited for its return in 2021. Walke says he had many students asking about the date and trying to convince their teachers to carve out class time to visit the fair. "Last year was our first attempt," Linville says, "so for this year we felt more confident and had a better vision on what we wanted to accomplish… I think the festival was exactly what students needed after a long, and at times difficult school year. We were happy to provide something for students to enjoy and hopefully return to for years to come."