Jac-Cen-Del's first day for students is Aug. 5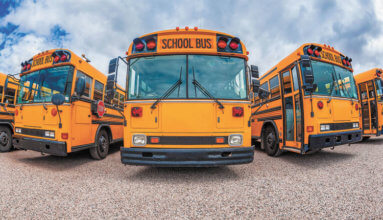 The Jac-Cen-Del Community School Board met July 15 where they announced the first teacher day for the upcoming school year will be August 1 and the first student day will be August 5.

On August 3 the Upper Room Cafe' is hosting a "Back to School" event for the entire family. There will be live music, games, contests, bounce houses, school supplies, free food and free haircuts from 1:00 – 4:00 p.m. Child must attend to get the school supplies.

Additional textbooks fees were added for several classes, with board approval. Math XL online will have a $25.00 charge added. Spanish I, II, and III will have a $20.00 charge added. Computer Science A will have a $42.85 charge added.

JCD administration had a retreat July 10 – 12 at which they discussed uniformity among the buildings, consistency with procedures, and visions for the future.

Personnel changes approved unanimously are as follows:

Resignations:

Andrea Rohrig – special education; Emily Bender – speech-language pathologist; Ben Donohoo – music; Kelsey Huber – English; Amber Redwine and Delores Evie Fronk – cafeteria. Renee Fuqua -seventh grade volleyball coach; and Amy Fischner – elementary art.

Maternity leave was approved for Kate Todd effective approximately January 16, 2020 for eight weeks.

New hires approved unanimously are as follows:

Paige Simon: special education teacher with pay and benefits per the Master Contract beginning with the 2019-2020 school year; Timothy Blake Sutton: JV basketball head coach; Ethan Riley Thomas: boys freshman basketball head coach; Brittany Scott: seventh grade volleyball coach; Cameron Papandria: chorus/band director with pay and benefits per the Master Contract beginning with the 2019-2020 school year; and Kate Schwartz: speech and language pathologist with pay and benefits per the Master Contract beginning with the 2019-2020 school year.

One new hire of Jack Day as boys varsity basketball head coach was approved with one "no" vote given by Jim Westerman. Two more certified positions are yet to be filled, High School English and Elementary Art.

Fred Unsicker, the newly hired high school principal, thanked Superintendent Ryan Middleton and the school board for their support. Unsicker was pleased by all the positive energy displayed by the teachers. Unsicker also commended April Caudill, guidance counselor and Trent Whaley, newly hired elementary school principal, for their efforts and cooperation as they strive to get this new school year to be a success.

The payroll and other claims for July 2019 and the additional $9,701.39 in claims was approved unanimously.

According to the Indiana Library Federation, the school board needs to appoint a champion for the education seat on the Library Board of Trustees. It is the responsibility of the board to appoint a person who sees the library as a position of collaboration and a supportive situation for the school and its students. The reason the process of making an appointment at the July business meeting was postponed until the August business meeting was to allow the board to further discuss all related matters. The school board is not under any required timeline to make this appointment. However, even if this slot is unfilled for a short time, it would make for some quorum issues for the library, which is why it should not remain unfilled for a long period of time.

Those in attendance at this July meeting were Trina Huff, Ryan Middleton, Fred Unsicker, Trent Whaley, Jim Westerman, Jason Smith, Travis Neal, and Stephen Huntington. The next regular business meeting will be August 19 at 6:00 p.m. in the JCD Elementary library.