JCD girls build win streak to seven in a row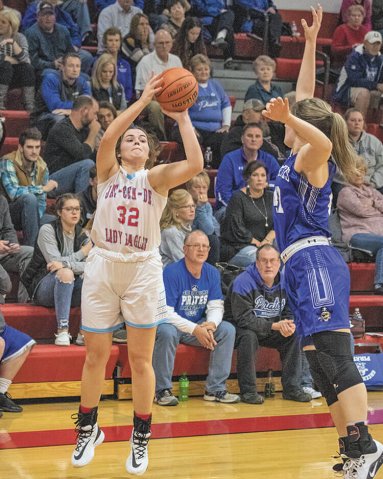 JARED ROGERS PHOTO
Jac-Cen-Del's Lady Eagles basketball team defeated Hauser and South Dearborn last week to build their record to 7-1, with all seven wins coming in a row after their first game of the season.

JCD hosted the Hauser Lady Jets on Wednesday, Dec. 4 and defeated the visitors 64-34. The home team led at every quarter stop: 20-1 after the first, 31-8 at halftime, and 45-22 after three quarters.

Junior Paige Ledford led her team with a double-double effort of 17 points and 15 rebounds. Additionally, she had three assists, one steal, and two blocked shots.

Teammate Anna Hubbard nearly reached double-double status as well, scoring 16 and pulling down eight rebounds in addition to two steals and three blocked shots.

Also scoring for JCD: Aundrea Cullen 11 (3/5 from three point range), Annabelle Williams nine, Kadee Kuhn five, Dillan Hughes four, and Regan Carroll two. Carroll added 10 rebounds while Williams led the team with five assists.

JCD traveled to South Dearborn on Saturday, Dec. 7 and defeated the Lady Knights in a close game, 56-51.

The Lady Eagles led 24-18 at the half, but a 25-17 third quarter advantage by the Lady Knights put them ahead 43-41 with eight minutes remaining. The Lady Eagles outscored the home team by seven to take home the five-point victory.

Ledford lit up the scoreboard with 25 points on the night, to go along with 14 rebounds. Nineteen of those points came from the free throw line, resetting the school record for both free throws made and attempted in a single game.

Also scoring for JCD: Williams 13, Carroll seven, Cullen four, Hubbard four, Hughes two, and Kuhn one. Hughes and Kuhn each had four assists. Kuhn and Carroll each pulled in five rebounds.

The junior varsity Lady Eagles continued their stellar start to the season as well, defeating Hauser 54-23 and South Dearborn 43-25. Those two wins boosted their record to 7-1.

Against Hauser, Desiree Sparks led the way with 20 points and six rebounds. Olivia Neal added 11 points and six rebounds. Other scorers included: Emma Newhart six, Kaytlin Sizemore six, Lauryn Dilk four, Aundrea Cullen three, Regan Richter three, and Cassidy Harmeyer one. Dilk led the team with four assists.

Against South Dearborn, Sparks again led the team in scoring with 15 points along with six rebounds. Also scoring for JCD in that game: Dilk five, Newhart five, Harmeyer five, Sizemore four, Neal four, Cullen three, and Richter two. Sizemore led the team with four assists.

The Lady Eagles will carry their positive momentum into two games this week. On Tuesday, Dec. 10 they'll visit class rivals Waldron. The last time those two teams met was in last year's quintuple overtime sectional championship game, where JCD prevailed 67-61. The Lady Mohawks are 3-5 on their 2019-20 season so far.

Then, Morristown comes to Osgood on Saturday, Dec. 14. The Lady Yellowjackets are currently 2-5.