JCD grad to lead Oakland City softball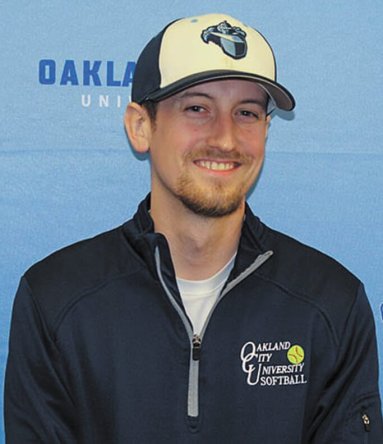 SUBMITTED PHOTO
The last name Schuler has long been associated with Jac-Cen-Del Athletics but now the name will carry some big-time weight in the collegiate ranks as former Eagle Ryan Schuler is set to take over as head softball coach at Oakland City University.

Schuler takes over for long-time head coach Patti Buchta, who retires from the position after 31 years at the helm of the Mighty Oaks.

"I am absolutely ecstatic about being named the head coach for this great university," Schuler said. "This has always been a dream of mine to coach at the college level. I never had the desire to coach at the high school or travel ball level, but the college game is something I always strived for and had my sights set on even in my playing and lesson giving days."

It has been quite the journey through various states for Schuler, a 2010 graduate of Jac-Cen-Del who was a three-year letter winner for the Eagles under head coach David Bradshaw. By age 20, a love of the game led him back towards the sport, offering hitting lessons for baseball and softball players alike at The Ballpark Academy while attending the University of Southern Indiana in Evansville. Fast forward nearly five years later, a stint in Florida as part of the Tampa Bay Rays organization in ticket sales allowed him to remain an instructor.

"I eventually got back into lessons after living in Florida for six months and worked for another hitting lesson business called "The Hitting Academy," noted Schuler. "After two seasons with the Rays and THA, I became a professional instructor and moved a little bit north of Atlanta, GA and worked for a franchise called, D-Bat."

Evansville would come calling when the Ballpark Academy was up for grabs from previous owner Andy Miller, eventually leading to Schuler renaming the business the Home Run Hitting Academy while also beginning his coaching career as part of the Oakland City softball program as a volunteer assistant in 2020. After a COVID-shortened year in both roles, he would work his way into a full-time coaching position.

Schuler not only has served as an assistant coach the last three years, but also found the time to complete his bachelor's degree at Oakland City, earning a degree in Sports Administration. During that span, the Mighty Oaks would earn three-straight berths to the National Christian College Athletic Association Tournament after winning Mideast Regional Championships. This past season saw the team finish with a 25-21 overall record, setting the school record for wins in a season.

Now as head coach, Schuler's plan is to continue the winning ways of the program, while also instilling in his roster the standards of fundamentals and citizenship, lessons learned from his parents Bill and Terri Schuler who still live in Osgood.

"I think being at OCU is a perfect fit because the whole campus is filled with great people," Schuler said. "75-80 percent of the student population are athletes and with a Christian atmosphere, you get that 'good kids playing good ball' type of feeling all over campus. I hope to help grow the sport of softball and hope to help my players reach their goals and dreams outside of softball as well."

Located in Gibson County, Oakland City is a member of the NAIA ranks and the River States Conference. The roster currently features a slew of talent from Western Indiana and portions of Kentucky but Schuler is hoping that his Ripley County background could eventually help him land an up and coming pool of softball talent here in the coverage area.

"I think softball players from the Ripley County area need to know that there are many opportunities out there to play after high school and playing softball while continuing an education is a gift," Schuler noted. "Even though OCU is a college, it still sits in a small town just like the small towns that are in Ripley County and with a private school education, the teachers really enjoy getting to know their students and also want to make you successful. I really look forward to recruiting over in those neck of the woods to OCU to help create and continue a winning tradition and we will do it all in a positive and uplifting manner."