JCD graduates 64 on Sat.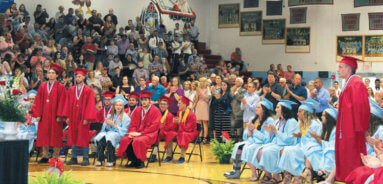 WANDA ENGLISH BURNETT PHOTOS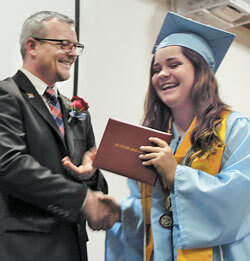 The class of 2019 from Jac-Cen-Del were proud owners of diplomas when commencement exercises ended Saturday, June 1. They were a serious and yet, fun loving class as they reminisced before the graduation. Their class song was Good Old Days and their class motto reflected they would hold on to what is dear to them, "Our past is behind us, our future lies before us, but our memories are forever."
The traditional "Fanfare and Processional" began with a high school graduate of JCD, Chris Douglas directing. A reflection was given by Trent Linville, followed by a short speech from Bruce Roberts, who was in the class of 1969, the honored class that had graduated 50 years prior.
Superintendent Ryan Middleton spoke to the class speaking of all the electronics that make it easier to look up things, perhaps even a graduation speech. But, he said, "You cannot google to find what's in your heart." He told them he spoke from his heart, wishing them well when they left the building with 16,380 hours of classroom instruction to stand on. He encouraged them to "work hard every day, use technology, but use your hands and heart."
Seniors took their places with the band one last time to play "The Phantom of the Opera" medley. And, then the most awaited moment of the day – the diplomas were handed out. Elizabeth Williams had a grade point average of 4.32 and Rebekah Dodge had a grade point average of 4.35. With just a few points between them, the girls both took turns at the podium speaking.
Class President Trent Linville led the class of 2019 in the turning of the tassels as the band ramped up the recessional and students gathered in their traditional circle to throw confetti and hats in the air. They were graduates.
The JCD Gymnasium was filled with relatives, friends, and loved ones, wishing their graduate the best along with the school board, administration and staff.