JCD hires superintendent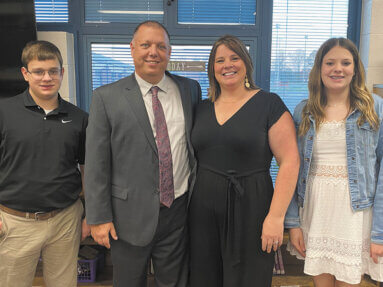 WANDA ENGLISH BURNETT PHOTOS
After six candidates applied for the Jac-Cen-Del Schools superintendent position and five were interviewed – the candidate chosen was Samuel Melton of Dearborn County.
Melton is no stranger to Ripley County having graduated from South Ripley in 1992 where he loved and played sports. He has also coached and still enjoys golfing.
The 49-year-old is ready to lead JCD. "I love seeing the impact we can make on students," he told the Osgood Journal as he signed the contract with the school last Friday, November 4.

Melton has the experience, education and passion to lead, saying he will be listening a lot as well.

He is the South Dearborn Middle School Principal until he begins his career at JCD. "Everything should be in place for him to start before the end of the year, but definitely by January 1, 2023," noted Jason Smith, JCD School Board President.
Melton graduated from Ball State with his Masters and holds his EdS from Indiana State University. He has also been the principal at the Dillsboro Elementary School. He told the Osgood Journal that education has always been a big part of his life as his mother is a retired teacher from a career with Jennings County Schools.

At a special meeting, Debra Roberts, James Westerman and James Gayheart, members of the school board, along with Smith voted unanimously approve Melton. His family was in attendance, including his wife, Amy, and children Carter and Elizabeth and mother, Cynthia Melton.

Melton says he is looking forward and anxious to begin this new chapter of his life.

Smith told the Osgood Journal that hiring a superintendent wasn't something the board took lightly. They have followed the suggested course of action in looking for and securing this important person for their school corporation. Interim Supt. Fred Unsicker can now get back to the high school principal position. He had served as both for a short period of time.

The school continues to strive for excellence in education.