JCD/Milan compete
at Switz Invite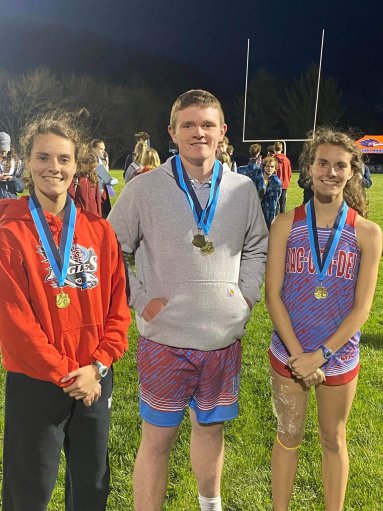 PHOTO COURTESY OF JCD SPORTS
Jac-Cen-Del's girls team finished third and Milan's boys team placed third as the two schools competed at the Switzerland County Track and Field Invitational sponsored by the Vevay Media Group on Thursday night.

Milan's boys were coming off a first place win at South Ripley on Tuesday night and placed third on Thursday with 98.50 points. Lawrenceburg was the invite winner with 160 points and Southwestern (Hanover) finished runner-up at 104.50 points. Switzerland County and Jac-Cen-Del finished fourth and fifth with 77 points and 58 points respectively. Rising Sun and Shawe Memorial rounded out the field.

Sophomore Ben Riehle gave Milan two individual wins after he won the 200 dash in 23.64 seconds and the 400 dash in 51.56 seconds, which was a new event record at the invitational. Ayden Potts scored a win in the 800 run at 2:10.01 and Mason Green won the 300 hurdles in 43.14 seconds. Potts and Riehle teamed up with Jonny Volk and Green to win the 1600 relay in a time of 3:24.88.

Corbin White swept a pair of field events, giving Jac-Cen-Del its two wins. White won the shot put with a throw of 40 feet and five inches and then took victory in the discus at 122 feet. Adam Maloney was the only other top three finisher as he placed third in the 300 hurdles at 44.86 seconds.

On the girls side of the meet, Switzerland County took its own invite title with 147 points, inching past runner-up Lawrenceburg and its 146 points. Jac-Cen-Del had 78 points for its third place finish and the top five was rounded out by Shawe's 61 points and Milan's 55 points. Southwestern finished sixth, New Washington was seventh and Rising Sun placed eighth.

Cloey Simon set a new invitational and school record in the 300 hurdles on Thursday en route to a dominant win. Simon won the race in a time of 48.71 seconds which was nearly a second better than the 2017 record set by Switzerland County's Ally Furnish. Kayla Simon added to the cause with a win in the 100 hurdles in a time of 17.44 seconds. She was also third in the 400 dash in 1:06.04.

Emma Newhart was second in the discus at 93 feet and nine inches while Cloey Simon was second in the long jump at 15 feet and 5.75 inches.

Milan's Hannah Hoog won the 400 dash in a time of 1:02.99 and was third in the 200 dash in 29.19 seconds. The 400 relay team of Abby Ball, Emma Carpentar, Anna Herzog and Kyleigh Bledsoe was third in 58.22 seconds and the 1600 relay team of Bledsoe, Carpentar, Herzog and Hoog was third in 4:45.32.

Milan is back in action tonight as part of a three-way meet against Rising Sun and Lawrenceburg. Jac-Cen-Del is at South Ripley tonight in a four-way meet that also features Switzerland County and Shawe.