JCD names new elementary principal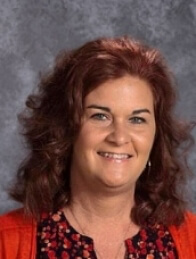 SUBMITTED PHOTO
DeAnna Budd was unanimously approved as the elementary principal beginning with the 2022-2023 school year at the regular meeting of the Jac-Cen-Del School Board on April 18.

Budd, who is a graduate of JCD, has lived in Napoleon most of her life and has family roots that go back to the beginning of its establishment. She is married to her biggest supporter, Johnny Budd, a former administrator at JCD JH/HS. She has had four sons graduate from Jac-Cen-Del, and her daughter is currently in the fifth grade.

Being in education for 25 years, Budd has spent most of her experience at the elementary level including two years of building leadership at the administrative level. "I am honored and beyond excited for the opportunity to help lead Jac-Cen-Del Elementary to continued success. I have a rooted vested interest in this corporation and its success. There are so many great things happening in our corporation, and so many more doors to open for our students, staff, and community," Budd noted.

Budd has spent the last four years as the Title I Administrator, and Corporation Test Coordinator. "I am fortunate to not have to spend time getting to know the day-to-day systems of our building and getting to know the staff, since I've been a part of this family for so long. Whereas, this time can be spent to create our plan and shared vision to move forward. I am also looking forward to getting out into the community and making connections with local businesses. Positive relationships with key stakeholders are vital to a successful school," she concluded.

Budd will replace Trent Whaley, who has resigned from the elementary principal position to follow his career elsewhere.

Another change at JCD will be the resignation of Dan Goris as School Resource Officer. Superintendent Ryan Middleton noted that Goris "has been a staple for security and safety throughout the JCD campus." He said there was no ill-will with the change, but that Goris was "simply changing environments." Goris was thanked for his many efforts to keep and maintain JCD as a safe place for staff and students.

Other personnel changes include:
The resignation of Stephanie Volz as elementary teacher; resignation of Beth Halcomb as high school English teacher; the resignation of Elizabeth Newhart as high school aide; resignation of Scott Smith as varsity girls' head basketball coach; and the resignation of Hannah Mullikin as junior high cheer coach. The maternity leave of Megan Wessel was granted.

The board approved the hiring of: Candy Sizemore as special education teacher; Laura Deamron as high school cook assistant; Hanna Speer as latch key/summer day care coordinator.

Supt. Middleton presented information concerning the storm damage from the tornado. He said that many of the damaged items have been sent to insurance and are awaiting approval to begin the reconstruction process. Among one of those items was a damaged score board that needs to be replaced. He said that the corporation activities coordinator will work with a company to provide two additional scoreboards at no cost to the corporation through the local community's support.
In other business: A report from an audit to prevent workplace injury was shared with only a few suggestions. Supt. Middleton said he was happy with the results and will begin the process of reviewing the suggestions and moving forward.
The Board approved the summer technology employees.

Proposed cafeteria vendors for supplies and commodities were approved.

The Board approved a donation in the amount of $500 from the Osgood Grub Co. for the baseball program.

The next regular meeting of the JCD School Board of Trustees will be held on Monday, May 16 at 6 p.m. in the JCD Elementary Library.

Editor's Note: Information for this story was taken from unofficial minutes from the April meeting of the JCD Board of Trustees.