JCD run ends in "Elite 8"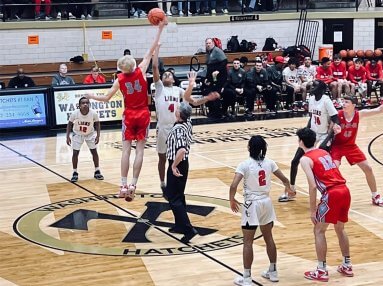 Submitted Photo
Jac-Cen-Del boys basketball did everything in its power to stay within striking distance in Saturday's IHSAA Class A South Semi-State semifinal but Rock Creek Academy held off a slew of charges as the Lions defeated the Eagles 58-47 at the "Hatchet House" in Washington.

Rock Creek (12-15) used the win to advance to the Final Four and meet up with No. 8 Indianapolis Lutheran who stunned No. 4 Loogootee (20-8) as part of a 67-66 morning semifinal contest. The Saints (19-7) defeated the Lions 55-47 on Saturday night to punch their ticket to the Class A State Championship in Indianapolis on Saturday morning.

The afternoon tilt saw Jac-Cen-Del faced with a tall order, literally. With Rock Creek featuring 7-foot center Marial Diper and 6-foot-7 Jaleb Treat, the Eagles were forced to defensively pack things in underneath and early on such a strategy paid off. The Lions led 12-10 at the first stop but it was clear that Clint Bohman's crew would be physical and offensively, had the skill set and athleticism to maneuver around in order to score points.

But unfortunately for the Osgood bunch, Rock Creek noticed such a challenge and made adjustments at the quarter break that would ultimately play in its favor for the final 24 minutes. Diper and Treat would only combine for 11 points in the game but with the defensive focus on the interior, it allowed Rock Creek's guard play to shine in a big way. Defensively, the Lions found a way to stretch out Jac-Cen-Del's offense and the Eagles would falter despite numerous chances to get on the right side of the scoreboard.

With changes in effect, Rock Creek's lead stretched to 22-17 by halftime and a late surge in the third quarter doubled up the margin. Jac-Cen-Del pulled off a second half comeback against Bethesda Christian in the regional title game a week prior but the deficit would dwindle no further down than five points in the final frame as turnovers and inconsistent free throw shooting allowed the Lions to remain in control. Rock Creek finished off the day outscoring the Eagles by six and pulled away for the 11-point victory.

On paper, it's intriguing to look at the numbers. Unofficially both teams hovered between 35 and 40 percent shooting and Rock Creek actually turned the ball over more, committing 18 turnovers to Jac-Cen-Del's 10, but a couple numbers stood out and made a difference. Where the Lions size did pay off the most was the rebounding department and a 44-19 edge on the boards allowed for several second chance opportunities that were converted and hurt the Eagles' chances of a comeback.

The other mishap was a self-inflicted one by Jac-Cen-Del and that being free throws. Rock Creek connected on 16-of-24 freebies but the Eagles struggled mightily, especially early on and the result was a 12-of-22 performance from the charity stripe that very well could have made a difference had the percentage been better.

In the final game of their Jac-Cen-Del careers, seniors Devin Grieshop and Matt Dickman led the scoring efforts, scoring 13 points and 12 points respectively. Clark Dwenger added nine points while Landon Kohlman scored eight points and Johnny Newhart put in three points. Another senior in Seth Drockelman, who had been pivotal throughout the postseason, was held to only two points.

Rock Creek's guard duo of Ladarius Wallace and Keajuan Beco did the damage on offense. Beco led all scorers with 20 points and Wallace put in 17 points all while dealing with an injury suffered in the contest. Treat put in eight points while the other three scorers for the Lions, Diper included, combined for 12 points.

Jac-Cen-Del ends another historic season with an 18-10 record which included back-to-back conference, sectional and regional championships. The Eagles lose six seniors to graduation but are in hopes that next year's squad resembles that of a reload rather than a rebuild.
CLASS A SOUTH SEMI-STATE SEMIFINAL
at Washington
ROCK CREEK ACADEMY 58, JAC-CEN-DEL 47
JCD – 10 7 9 21 – 47
RC – 12 10 14 22 – 58
JCD (18-10) – Devin Grieshop 13, Matt Dickman 12, Clark Dwenger 9, Landon Kohlman 8, Johnny Newhart 3, Seth Drockelman 2.
RC (12-15) – Keajuan Beco 20, Ladarius Wallace 17, Jaleb Treat 8, Gavon Taylor 6, Marial Diper 3, Memphis Jackson 3, Kalann Brown 1.
3-Point Goals – JCD 5 (Kohlman 2, Dickman 1, Grieshop 1, Dwenger 1), RC 4 (Wallace 2, Beco 1, Jackson 1). Free Throws – JCD 12-22, RC 16-24.