JCD soccer named ORVC champs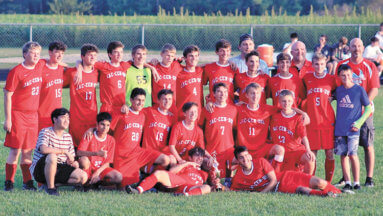 SUBMITTED PHOTO
With a commanding 8-0 victory over the Shawe Memorial Hilltoppers, Jac-Cen-Del's varsity soccer team secured the 2019 ORVC regular season championship. The Eagles finished the 2019 season with an ORVC record of 10-0-2 and an overall record of 13-1-2. It is the team's second ORVC championship in as many years. They begin sectional play tonight, Tuesday, October 8, against South Ripley. The sectional games are at JCDHS and that game is set to begin at 7:00 p.m. following the Milan vs. Rising Sun game at 5:00 p.m.

Eagles defeat Rebels 9-1

Following the win over Shawe, JCD hosted the Southwestern (Hanover) Rebels in Osgood. The Eagles routed their conference opponents by a score of 9-1. The Eagles scored five goals in the first half followed by four in the second on their way to the win.

Jacob Jines netted the first two scores for the Eagles, one with an assist from Tim Defranne. Jines would later finish off a hat trick with another score in the second.

Patrick Wagner added two goals for the Eagles, while Defranne, Ryan Wilson, Jordan Meyer, and Otavio Viotti each added one score. CJ Kuhn was credited with an assist on Ryan Wilson's score.

Eagles defeat Raiders 3-1

JCD traveled to South Ripley on Friday, October 4 to conclude their regular season in a rivalry game with the Raiders. Three goals in the first half lifted the Eagles over SR by a score of 3-1.

Patrick Wagner netted the first two goals for JCD, one of which came from a penalty kick. Then, as the first half dwindled to its final minutes, Koldo Templado put the ball in the back of the net.

South Ripley responded midway through the second half when Dillon Binion kicked in a goal after a penalty kick attempt by teammate Zach Gentile. The Raiders couldn't muster any further offensive might, however, as JCD cruised to victory.

With the win, JCD retained the Coach Mo memorial trophy honoring the life of Matt Obendorf.