JCD's Bradshaw to coach Indiana's South All-Star baseball team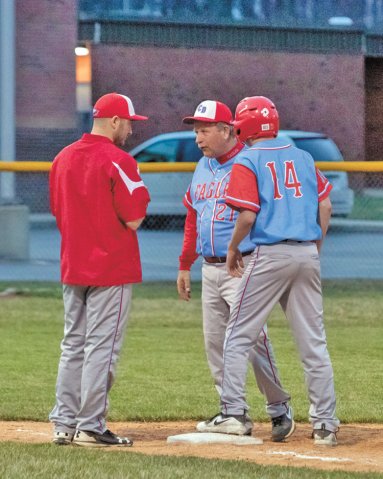 Jared Rogers Photo
Jac-Cen-Del Eagles head baseball coach David Bradshaw has been selected to coach Team South in the annual North-South All-Star Series organized by the Indiana High School Baseball Coaches Association (IHSBCA) from June 21-23.
Alongside Bradshaw, who will serve as head coach, Jay Malott of South Dearborn and Steve Bray of Northeastern will make up the South's coaching staff.
This year's games will be hosted at Gary O'Neal Field at Madison Consolidated High School. Hanover College will also serve as host to the annual banquet for players, coaches, and families on Friday, June 21. It is the first time the all-star festivities will be held in Madison.
Prior to the banquet, both teams will have a chance to practice together on Friday, before playing a doubleheader on Saturday. Those games are scheduled for 12:00 p.m. and 3:45 p.m.
A third game is scheduled for Sunday at 12:00 p.m. For that final on Sunday, June 23, Indiana Governor Eric Holcomb is scheduled to throw out the first pitch.
The games showcase 50 elite, senior baseball players from around the state, many of whom plan to continue to play the game in college. The teams are divided into squads of 25 apiece for the three game weekend series.
Coach Bradshaw has led the Eagles baseball program for 34 years, building a 499-325 overall record. During that time, he has guided the team to seven invitational tournament championships, six ORVC championships, eight sectional championships (1993, 2000, 2006, 2007, 2008, 2009, 2014, and 2016), and two regional championships (2000 and 2008), which led to two final four appearances in Class A for those two years.
Additionally, Bradshaw has been named IHSBCA Coach of the Year on three occasions. Bradshaw reported that he is "honored to be selected to coach the South All-Stars."
Friends, families, and baseball fans are welcome to attend the three scheduled games. Prior to the first pitch for the noon start on Saturday, Madison Mayor Damon Welch will welcome fans and players.
The public is also invited to attend entertainment arranged by Visit Madison at the Bicentennial Park downtown on Saturday evening, from 6:30-9:30 p.m. Food trucks, lawn games, and music will be offered at the park along the banks of the Ohio River.