Judge King swears in prosecution team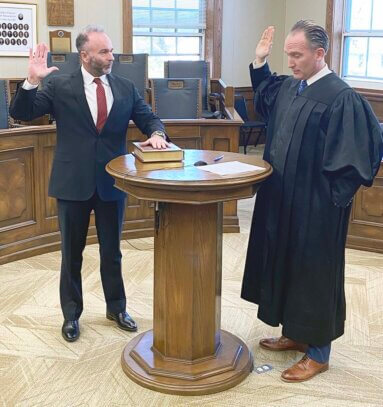 WANDA ENGLISH BURNETT PHOTOS
In a swearing in ceremony held on the second floor of the Ripley County Courthouse in the Circuit Court, Judge Ryan King administered the oath of office to everyone in the prosecutor's office.

The ceremony took place on December 21 with Prosecutor Ric Hertel taking the oath for the seventh time as he begins 25 years being the Ripley County Prosecutor. He said he's been fortunate to have the greatest job in the world, including the highs and lows, and 'hard' that comes with it. "Earning the community's trust for this period of time is humbling and something that I've never taken for granted," he was recently quoted saying. He came into the courtroom carrying a special Bible to use for the ceremony – one that belonged to his mother.

Tracy Rohlfing is now part of the prosecutor's office. He was officially sworn in to begin January 3 as the investigator.

Rohlfing is not a stranger to law enforcement. He spent his entire career with the Indiana State Police where he served nine years as a road officer and the past 25 as an investigator. He primarily investigated the toughest cases that included child sex crimes, questionable death scenes and even white-collar crimes.

Taking the oath of office almost one year to the day of his retirement from the Indiana State Police, Rohlfing said it just felt "right" to be back in the investigating field. He loves what he does and says it's an honor to speak for people who do not have a voice. He likes to find out what and how something could have happened, and make sure the right person is charged with the crime.

Prosecutor Hertel said his office is fortunate to have Rohlfing, "He will be a great asset to our team and work with law enforcement." Hertel is excited about Rohlfing being a liaison for his office helping to build stronger cases in the most cost-effective manner. Having an investigator over another prosecutor saves the county thousands of dollars.

Ryan Marshall, who was a former deputy prosecutor with the Ripley County office, was elected as the Switzerland County Prosecutor.
The team is rounded out now with Deputy Prosecutor Rae Schuler and Chief Deputy Prosecutor Shane Tucker.

Prosecutor Hertel said he was honored to have Judge King administer the oaths and the statement was returned. The group talked briefly about working together and said they are looking forward to serving the people of Ripley County.