Junior Shooters win Legion state title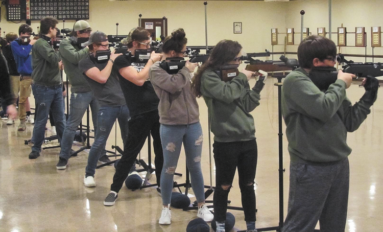 Submitted Photo
Versailles American Legion Post #173 junior shooting continued its stranglehold over the entire state this past weekend, winning the American Legion State Championship.

Post #173 put two teams inside the state competition and came away with first and third place finishes. Versailles Team No. 1 won the championship with a 1047-19 and Versailles Team No. 2 was third with a 924-12. Shoals was runner-up in the match with a 947-13.

On an individual level, the combination of Versailles teams put six shooters in the top 10 while eight shooters placed inside the top 12 of the match, including the top two spots on the leaderboard. Trenton Franklin was the individual champion of the match with a 271-7 while Maggie Holt was second with a 268-5. Jasper's Emilee Seitz competed and was third with a 263-8 score.

Franklin finished first in the kneeling portion of the match with a 93-3 score and Holt was second in the same portion with a 92-1. She was also runner-up in the standing portion with an 84-1 and Franklin was third in the prone portion at 95-3. Joe Cairns was first in the standing portion with a 84-2 total and Richard Block was third in standing at 84-0.

Versailles Post #173 competes this Saturday in Fort Wayne at the Indiana State Rifle and Pistol Association State Air Rifle Junior Olympics.