Jury trial postponed for Osgood teen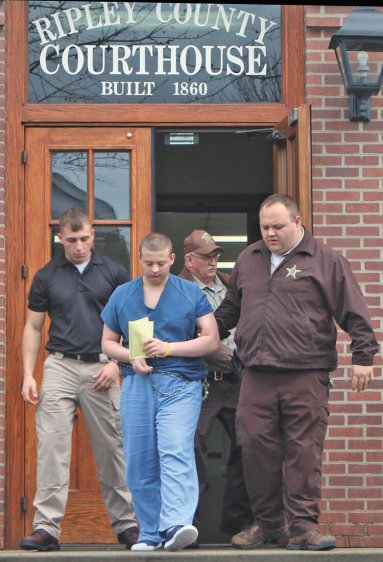 MELINDA STARKEY PHOTO
In a case that dates back to May 1, 2017, a pre-trial hearing was held in Ripley County Circuit Court last Friday, January 10 at 1:30 p.m.

Nickalas Kedrowitz, 15, was clad in a blue jumpsuit with Juvenile Center Inmate imprinted on the back as he was escorted into the courtroom by Ripley County Transport Officers, Winston Halcomb, Randy Thieman, and Ripley County Sheriff's Deputy, Jordan Hartmann.

Kedrowitz's attorneys, Mark Jones and Lynn Fledderman, asked for a continuance from the February 18 date for a jury trial. Kedrowitz is accused of killing two of his siblings – Desiree McCartney, two-years-old and Nathaniel Ritz, 11-months old, just 81 days apart at their Osgood home in 2017. In an Affidavit for Probable Cause, Kedrowitz told police "he didn't want to hurt them (deceased siblings), but he had to set them free from this hell. He said he didn't leave any bruises or scratches on them."

The attorneys asked for the continuance saying a doctor had just recently examined Kedrowitz and had adjusted his psychotic medications. They also asked for additional time to get properly prepared for the trial.

Judge Ryan King asked the State if they had received any information from doctors on this turn of events. Prosecuting Attorney Ric Hertel noted that his office had not received anything. The Judge then asked Defense if they had a report, and they said they did not. They all agreed that the documentation, if and when it is forthcoming, should be shared with the Court and State. Whether or not the documentation from the doctor will be public is to be determined.

While the Judge did continue the jury trial date to a possible summer date, he noted, "This could go on forever," referring to Kedrowitz being sent to several different doctors and medications changing. He told Defense they needed to be preparing for trial.

Another pre-trial hearing was set for March 19 at 1:30 p.m. in Judge King's court.

The case gained great media coverage as it initially unfolded, but at the hearing last week, only the maternal grandmother of Kedrowitz sat in the courtroom. She noted, "This is tearing our family apart. It's just been hard." Prior to the pretrial hearing, Kedrowitz turned around and spoke to his grandmother. They had what appeared to be a casual conversation and a few smiles were exchanged.

Ripley Publishing Co. was the only media in the courtroom.