JV Lady Raiders win ORVC Tourney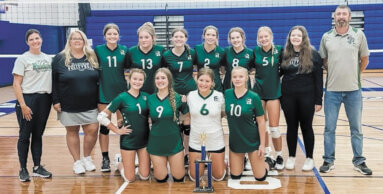 PHOTO COURTESY OF SR VOLLEYBALL
South Ripley's junior varsity volleyball team remains unbeaten and claimed a regular season title this past weekend, winning the Ohio River Valley Conference Tournament at Rising Sun.
A depleted ORVC in the junior varsity ranks gave way to the conference also inviting both Batesville and South Dearborn to compete in the tournament.
The Lady Raiders opened against South Dearborn, earning a hard-fought three-set win before defeating host Rising Sun in two sets as part of the semifinal round. South Ripley wrapped up its second-straight ORVC Tournament championship by defeating Milan in back-to-back sets.
It was a big day for several in green and white. Abriah Hogg put together a big day on the serving line, totaling eight aces and seven kills to go along with 10 digs. Avery Andrews led in assists, served 10 aces and had 11 digs while Claire Samples collected 14 kills, 20 digs and seven aces.
South Ripley's junior varsity team remains undefeated at 6-0 and puts that record on the line tonight in a road match at South Decatur