Knudson arrested, accused of murder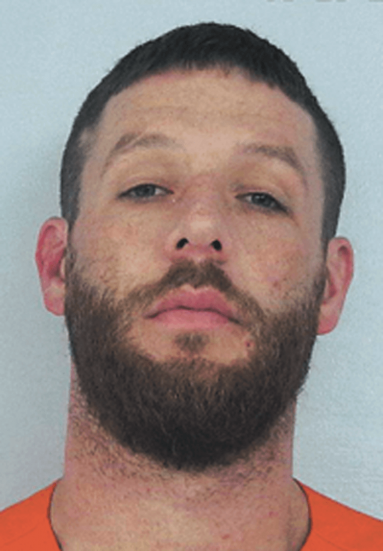 A community that had been on edge since a brutal murder took place on January 10 could rest more peacefully this past weekend when an arrest was made on Friday, March 26, just three days after a warrant was signed by Ripley County Circuit Court Judge Ryan King for the arrest of Jordan Knudson, 36, of Holton. Knudson was arrested in Jennings County where he showed up for a court hearing in an unrelated criminal matter.
Knudson was wanted for the murder of Kristina Jones, 36, with police saying he allegedly left her body in a bathtub, unresponsive and bloodied at the home of Rodney McEvoy on 700 W., Holton. An autopsy, performed by Hamilton County, Ohio, forensic pathologist Gretel Stephens, determined that the cause of death was multiple gunshot wounds to the head, noting that the wounds were made by a .410 caliber gun.

The affidavit reads, "Jordan Knudson's parents, Norman and Pina Knudson, purchased a Mossberg 500 .410 pump shotgun and three boxes of .410 shotgun shells at the Walmart in Greensburg, IN. That purchase took place on July 14, 2020. Norman and Pina Knudson last saw that weapon on December 24, 2020, when Jordan placed it and some of the ammunition inside the home. Norman disclosed that he became aware this .410 shotgun was missing from the residence as of 1-11-2021, along with a box of .410 shells."

According to information from court records, McEvoy came home around midnight on January 10 to find Jones lying in the bathtub face up. He ran out of his house and over to his parents, who live less than 100 yards, to get help.

McEvoy's mother, Marilee, who is a nurse, saw "Krissy" as she calls Jones, and said she thought the girl had been beaten and was dead. She called 911 and then began life saving efforts until first responders arrived. Jones was pronounced deceased at the scene. "I was just hoping I could breathe some life into her, but it couldn't be done. Nobody deserves this," she brokenly noted in an exclusive conversation with the Osgood Journal. Krissy had been friends with Rodney and his family for years, along with Knudson.

McEvoy told police he had known both Krissy and Jordan for many years. He said Krissy had been in a relationship with Jordan, but was staying with him (McEvoy) at the time of her death because she was afraid of Jordan.

Jones was so afraid of Knudson that she had filed for a Protective Order against him in Ripley County on December 15, 2020. The order was granted "ex parte" on that date in Ripley County Superior Court. The Probable Cause noted that Knudson was never formally served notice of the order.
However, Knudson told police that he was aware of the Protective Order at or near the time Jones filed it.

According to Ripley County Sheriff Jeff Cumberworth, several deputies from his office went to the address given on the order, which was the home of Knudson's parents, 4297 N. CR 800 W., Holton, to serve the papers. Documented records reveal they went multiple times and left a notice with Knudson's father on two occasions, Dec. 20 and Dec. 21, 2020, that there was an order for Knudson to pick up. "He was aware of it, but we could never make contact with him," the sheriff told the Osgood Journal.

Court records further indicate that Jones had been to the St. Vincent Jennings Co. Hospital in North Vernon on December 15, 2020, complaining of pain to the left side of her head. She told medical personnel that "he (Knudson) hits me in the head 'cause it doesn't bruise as bad." She reported being physically abused frequently, with multiple episodes of being knocked out by her boyfriend. She reported severe head pain and an inability to focus. She was diagnosed likely to have a concussion and was released from the hospital. Friends of Jones said she had a severe arm wound that needed attention as well, but they couldn't get her to seek help.

Police talked with Knudson after the murder and he told them that he and Krissy spent time together at the home of his parents – on the weekend before the Sunday when she was murdered.

Over the weekend when Jones was killed, Angie Miles, an employee of the Holton Food Mart, got a call from Jones. She told police that Jones was hiding in her (Miles') vehicle with the doors locked. Jones said she was hiding from Knudson and was afraid. A customer at the store heard the conversation and volunteered to take the girl where she needed to go. She gave the McEvoy address and was dropped off there about 8:25 p.m.

The affidavit further noted that a friend of Jones was interviewed by police and said she was with her at the McEvoy residence until about 9:30 p.m. on January 10. She said when she left the residence only Jones was there.

Indiana State Police have worked this case extensively since the time they were called and have partnered with many different agencies, even to the state of Tennessee when Knudson entered a drug-rehab facility there after the date of the murder.

Editor's Note: We will continue coverage of this horrific crime in The Versailles Republican following an Initial Hearing scheduled for 1 p.m. on Monday, March 29 (which is after our press deadline).