Knudson found guilty of Murder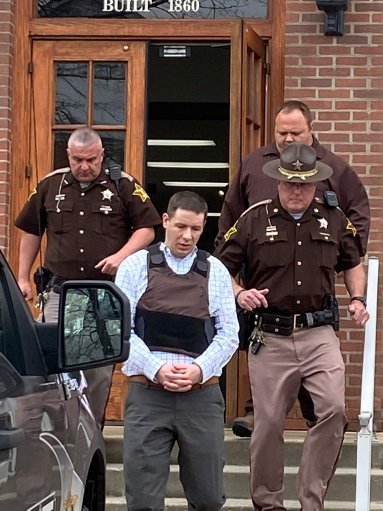 WANDA ENGLISH BURNETT PHOTO
It only took a jury two hours to decide Jordan Knudson, 37, Holton, was guilty of murdering Kristina Jones. After listening to opening statements, five days of intense testimony, and closing arguments, their decision came swiftly in complete unison.

Prosecutor Ric Hertel took jurors back to the night in January 2021, when her lifeless body was found by Rodney McEvoy, who ran to get his mother, Marilee, who lived just a few yards away from his home on 700 W near Holton.

Marilee McEvoy's testimony was that as a nurse, she did everything she could to breathe life into the small frame that had been shot three times in the face and head where forensic experts would find over 200 pieces of lead shot.

The prosecutor said there were no tearful goodbyes, no family or friends holding her close, just a young mother in her muck boots with her belongings in a small sack dying alone in a bathtub after being brutalized. "Her last sound was a .410 sawed off shotgun ringing in her ear, her last smell was gunpowder as she gasped for breath. This was a murder without a witness. We can't ask Kristina Jones what happened, but the murderer can tell you where the shotgun is and the shells," Hertel said as he pointed to Knudson sitting in the courtroom on Monday of this week. "He (Knudson) was full of rage, control, anger and desperation."

Recalling testimony, the prosecutor took the jurors over the last few days of Jones's life, giving them the full impact of what had happened. "You're tasked with using your common sense," he noted.

Defense attorney Ross Thomas began his closing argument with telling the jury their responsibility was for them to follow the rules. He said although it was a horrible crime, the rules are the same. He went over "proof beyond reasonable doubt" and explained "Confirmation Bias" to them.

Thomas said from the beginning Knudson was the only suspect police looked at and continued to do so. "This case is circumstantial," he said. Thomas explained how the Judge would give instructions to the jurors and they should apply those to what they have learned. He said the investigation was lazy and arrogant on the part of law enforcement. "You promised to follow the rules," he pled with them, as he directed their thinking back to when they were initially questioned before being chosen as a juror. He ended with, "There are too many unanswered questions."

As is the case per law, Prosecution has the last say in these matters. Hertel said, "Murder can be proven without an eye witness." He pointed to the multiple exhibits (over 130) admitted into evidence by the State, the powerful testimonies of people, even the father of the defendant, and said the State followed the evidence. "He (Knudson) had motive, intent, and opportunity," Hertel said, continuing with Knudson's words in texts and Facebook to Kristina were "hateful, intimidating and threatening."

"He's controlled everything until now…he doesn't control you…convict Jordan Knudson of murder because that's what he did," were words left with jurors.

Just before the guilty verdict was read aloud from Judge Ryan King, he instructed those in the courtroom that there would be no outbursts when the verdict was presented. There were none and the room was filled with every seat taken almost exclusively with family and friends of Kristina Jones.

After hearing the verdict, a quiet sigh went through those in attendance (most had been there every day) with more expression outside the courtroom. "Nothing will bring my daughter back," Al Asche said, but he was thankful for the trial verdict saying he (Knudson) wouldn't be able to hurt another man's daughter.

Kristina Jones's family – parents, brother, sister, aunts, uncles, cousins, husband and his family members and more, provided a shield of love for each other as they clung to hope in the justice system. They had shirts made throughout the year that led up to the trial that read, "Justice for Krissy". They also prayed and asked for prayers consistently throughout the ordeal. They felt justice had been served with the jury's decision.

"After 15 months, nearly to the day, the family of Krissy Jones was provided a small amount of solace," Prosecutor Hertel told The Versailles Republican. He noted, "The conviction of Jordan Knudson was hopefully a step for the families to begin a healing process."

The prosecutor thanked the family for their patience and trust in the prosecutor's office and law enforcement. "The road was never easy and had major obstacles along the way," he noted. He further thanked the jury and lauded their attentiveness throughout. "This jury saw the defendant for what he was, and more importantly for what he did. This was a heinous crime that was difficult for the most hardened law enforcement officers and prosecutors involved. There were a million emotions during that 15 months. I believe the Holton community can rest easier following this verdict," Hertel concluded.

Sentencing has been set for June 28 in Ripley Circuit Court.