Lady Bulldogs 14th at state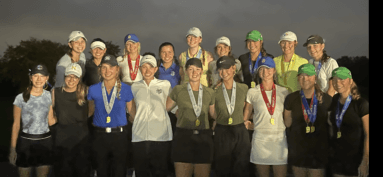 PHOTO COURTESY OF BATESVILLE ATHLETICS
Batesville's highly-touted girls golf team made its first appearance in the IHSAA Girls Golf State Finals this past weekend and after a rough start on day one, the Lady Bulldogs rebounded on day two to move up a spot and finish 14th overall in the state meet.

The meet, hosted by the Prairie View Golf Club in Carmel, saw nearly every team struggle on a much larger course on day one before bouncing back for much better scores on day two. The IHSAA Girls Golf State Championship was awarded to Evansville North who was 30-over par as a team and had a combined two-day score of 606. Homestead was second at 624 while Westfield was third with a 637 and Castle sat fourth at 639. Carmel rounded out the top five with a 652.

As for Batesville, the Lady Bulldogs found themselves in 15th place after day one with a 392 score but the team bounced back nicely in Saturday's second round, improving by 16 strokes with a 376 and moving up to 14th with a 768. The team's top golfer was junior Emma Weiler who finished 29th overall in the meet among individuals and was named to the Indiana High School Golf Coaches Association All-State Team. Weiler found herself in some trouble on Friday with an 18-hole 87 but improved by 12 strokes on Saturday to shoot a 75 for the day and make for a combined 162 score.

Addyson Weiler shot a combined 166 score for the weekend while Josie Meyer and Tori Harpring finished out the scoring rounds with scores of 195 and 245 respectively. In a non-scoring round, Madelyn Pohlman shot a 132 on Friday while Chloe Murphy shot a 128 on Saturday.

Lapel's Macy Beeson shot a two-day combined even-par score of 144 to claim the individual state championship.

The Lady Bulldogs are in high hopes to repeat the successes of 2021 and will make their goals even more lofty when the 2022 year rolls around. Despite losing Harpring and Murphy, Batesville returns the rest of its team including its top three golfers in both Weiler girls and Meyer.