Lady Bulldogs dominate two invites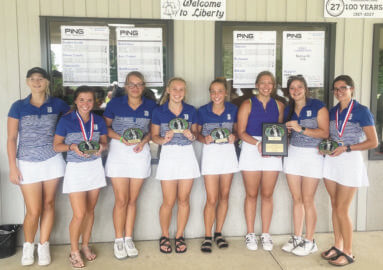 PHOTO COURTESY OF BATESVILLE GIRLS GOLF
Batesville girls golf will more than likely be making an appearance in the state rankings once the first poll is released later this month and the Lady Bulldogs played the part to open the 2022 campaign, easily capturing back-to-back invitational titles on Monday and Tuesday.

The Lady Bulldogs are coming off the program's first state finals appearance and are expected to once again contend among the state's best throughout the regular season and postseason. That journey started in convincing fashion this week.

Monday saw Batesville withstand a rain delay and win by nearly 60 strokes en route to the Joe Moehring Invitational championship hosted by Richmond High School. The blue and white carded a team score of 314 while host Richmond sat at 371 to finish as a very distant runner-up. Centerville was third with a 384, Union County was fourth at 404 and Rushville placed fifth with a 411. Winchester, Connersville and Lawrenceburg rounded out the rest of the field.

All-State selection Emma Weiler began her senior season with her fourth-straight individual title at the event and earned medalist honors with an 18-hole two-under par 70. Two other Lady Bulldogs finished right behind as the team took the first three spots among all individual participants. Josie Meyer was three-over par and finished with a 75 to place second and Addyson Weiler was two strokes behind at a 77 to take home third place.

Madelyn Pohlman wrapped up Batesville's scoring round with a 92 and Rhea Miller shot a 98 in a non-scoring round.

Batesville then made the trip to Liberty on Tuesday and won by almost 40 strokes, taking home the Union County Invitational at the Liberty Country Club. The Lady Bulldogs finished with a team score of 334 while host Union County placed second with a 372.

Delta was third with a 373 and Richmond competed again, this time placing fourth with a 376. Franklin County was fifth with a 388 while the rest of the field also included Northeastern, Daleville, East Central, Connersville and Hagerstown.

It was Emma Weiler again shooting under-par en route to medalist honors for the second-straight day. Weiler this time around shot a 68 at the country club, beating runner-up Rowan Pies of East Central by six strokes. Meyer and Addyson Weiler each shot an 81 for Batesville, tying for fifth place overall. Miller concluded team scoring as she shot a 95 and the non-scoring round saw Pohlman and Zoey Ahern shoot a 104 and 107 respectively.

Batesville gets an early measuring stick affair on Saturday as they head to Carmel for the Indiana State Fall Preview that features many of the top teams from around the state. The event will be hosted by the Prairie View Golf Club, the same course that plays host to the state finals. The Lady Bulldogs then open their home slate on Monday against Columbus East at the Hillcrest Country Club.