Lady Bulldogs hit golf course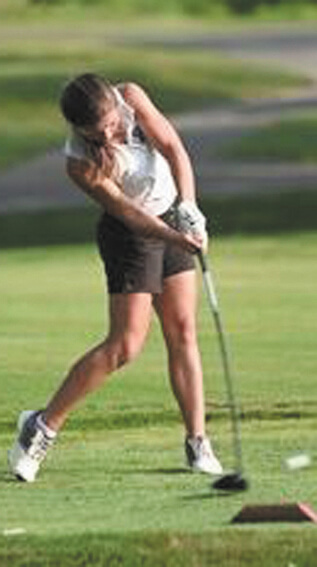 PHOTO COURTESY OF INDIANA JUNIOR GOLF
A trio of Batesville girls golfers are already preparing for the upcoming fall season as the three recently took part in a summer golf tournament at the well-known Donald Ross Course in French Lick.

The Age Group Championship on July 6-7 was part of the Indiana Junior Golf Summer Series that has been ongoing since the end of the school year. Series participants have included Batesville golfers throughout the summer who have played in a variety of tournaments throughout the state.
The outing at French Lick saw two Lady Bulldogs earn medalist honors in their respective age group. Senior-to-be Emma Weiler, a constant on the summer golf circuit throughout the years, was tops in the Girls 17 Division, winning with a two-day nine-over par total of 142. Weiler, who shot a 73 in round one and a 69 in round two, bested Trinity Dobbs of Vincennes by two strokes and was six strokes better than Greenwood's Sage Parsitech who was third at 148.

Seymour's Lainey Jackson was the only other golfer in the division of regional interest. Jackson was 13th at 190.

In the Girls 14 Division, Batesville newcomer Ava South claimed low medalist honors after dominating competition throughout two rounds. South, who will be a freshman, was nine-over par through two days for a combined score of 149 and was eight strokes better than runner-up Lexi Ray of Franklin. South's score sat at 72 after round one before finishing out with a 77 in round two. Josie Kelley of Noblesville was third at 162. The field had trailed behind South by seven strokes or more after the first round and was never able to catch up.

It was Addyson Weiler who rounded out Batesville's three representatives and the sophomore performed well in the Girls 15 Division. Weiler placed third with a 171 after overcoming a disastrous start to the tournament. The Lady Bulldog carded a 91 in round one but bounced back in round two, improving by 11 strokes and carding an 80. She bumped up two places after standing in fifth through one round.

Carmel's Sophie Mock was the 15 Division champion at 155 and Addison Kooi of Westfield was runner-up with a 159.
One other golfer of local interest competed and was a champion. Keara Eder, a 2022 graduate of Madison, won the Girls 18 Division by one stroke at 161. After trailing by three strokes through round one, Eder outdueled Becky Williams of Zionsville in the second round, squeaking past her with an 81 to Williams' 85.

Junior golf action continues for the rest of this month and will take a hiatus as the high school golf season commences in August. The series picks right back up in October at the conclusion of the state golf tournament.