Lady Bulldogs hold off SR in softball opener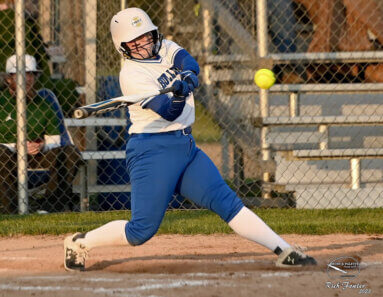 RICH FOWLER PHOTO
Rust and perhaps some early season jitters were evident last Wednesday night but in the end Batesville continued to answer a slew of scoring spurts by South Ripley as the host Lady Bulldogs held on for a 12-8 victory in the 2023 high school softball season opener.

The game had originally been scheduled for earlier in the week only to be postponed by storms and heavy downpours.

South Ripley held an early 2-1 lead but Batesville gained control after plating five runs in the bottom of the second inning. The Lady Raiders made a big charge two frames later with three runs in the top of the fourth to make the score 6-5 but the Lady Bulldogs answered right back with a pair of runs in the bottom of the inning and got itself a little breathing room. It would be a pattern that would be followed the rest of the way.

The Lady Raider bats produced three more runs -two in the fifth inning and one in the sixth- but a struggling South Ripley defense was unable to keep the Lady Bulldogs at-bay. Batesville answered with two runs in each inning and then held the green and white scoreless in the top of the seventh to pick up the 12-8 win.

It was obvious that defense was pivotal, especially considering Batesville scored its 12 runs on just four hits. South Ripley committed six fielding errors and a pitching staff that is in a complete rebuild after losing both of its starting pitchers after last season struggled in their 2023 debut. Just four runs for the Lady Bulldogs were earned and the Lady Raiders combined to throw four walks and hit seven batters.

Junior Brooklyn Brown started the game and was tagged with the loss, throwing one and two-thirds innings. She gave up five unearned runs on no hits with three walks and two strikeouts while hitting six batters. Senior Brionna Linkel pitched in relief, allowing six runs -four earned- on four hits through four and one-thirds innings. Linkel struck out six and walked one.

It was a big day offensively for Batesville junior Renee Lecher who went 2-for-2 with a double, home run, four runs and an RBI. Freshman Addilyn Froehling had a double, two RBI and a run while classmate Lexiyne Harris had a base hit, RBI and a stolen base.

Libby Stephens, another Lady Bulldog freshman, picked up the pitching win in a complete game effort. She struck out two and walked two while allowing eight runs -seven earned- on 15 hits.

Defense may be rebuilding for South Ripley but the offense definitely still has a little spunk. Daylene Adams, Lilly Guerra, Olivia Kavanaugh, Georgia Mertz, Brown and Julia Hilton all had two hits apiece. Morgan Meyer, Anna Block and Linkel each had one hit.

Kavanaugh and Mertz each hit a double and combined for five runs scored. Linkel doubled and recorded an RBI and run. Block finished with two RBI and Adams drove in a run alongside scoring a run.

South Ripley (0-1) was scheduled to play at Austin on Monday night and is at Oldenburg Academy on Thursday. Batesville (1-1) lost to Rising Sun on Saturday and was set for action on Monday as well, hosting Rushville in the Eastern Indiana Athletic Conference opener. The Lady Bulldogs are then slated for a matchup at Jac-Cen-Del this evening.