Lady Bulldogs open with two wins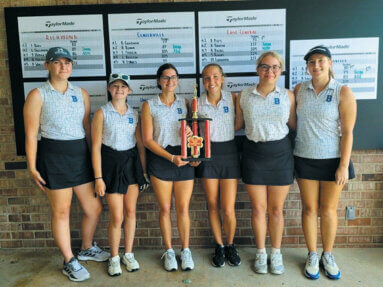 PHOTO COURTESY OF BATESVILLE SCHOOLS
Batesville girls golf has immediately established its presence as the team to beat in the area, opening up the 2023 fall season with a pair of invitational titles on Monday and Tuesday.
The Lady Bulldogs, fresh off of an appearance at last year's IHSAA Girls Golf State Finals, return three of its top four golfers from a year ago. Ava South, a sophomore that was among the top five of the state leaderboard last season, did not play early this week.
South's play in a national tournament at the Pinehurst Golf Resort in North Carolina prevented her from meeting the IHSAA's required two practice minimum prior to competition but her teammates had no trouble making up for her absence.
Monday saw Batesville dominate its way to a championship at the Richmond Invitational, shooting an 18-hole team score of 322. Richmond was a distant runner-up at 354 and Centerville was third with a 362. Union County and East Central rounded out the top five with a 389 and 409 respectively while Rushville was sixth at 414 and Connersville finished up with a 467.
Senior Josie Meyer led the Lady Bulldogs at the Richmond Elks Golf Course, shooting a four-over par 74 to place second overall among all individuals and Addyson Weiler came into the clubhouse with an 80. Newcomer Alexis Gallagher was three strokes back at 83 and Zoey Ahern concluded Batesville scoring with an 85. Grace Saner shot a 109 in a non-scoring round.
Batesville turned right back around on Tuesday, leaving the Liberty Country Club with the Union County Invitational crown. The Lady Bulldogs carded a 339 which was 25 strokes better than Richmond and its runner-up score of 364. Union County placed third with a 371, Franklin County was fourth at 382 and Delta finished fifth with a 394.
Just outside the top five was East Central in sixth place at 427, Daleville followed with a 437 and Connersville and Hagerstown wrapped up the field with a 444 and 478 respectively. Northeastern competed in the event but did not field a complete team.
Weiler earned tournament medalist honors on Tuesday, firing an 18-hole one-over par 72 and Meyer was third place overall on the leaderboard with a 76. Gallagher and Ahern wrapped up the scoring for the Lady Bulldogs with a 93 and 98 respectively and Saner shot a 108 in a non-scoring round.
Batesville will be at full strength roster wise on Saturday when they compete in the State Golf Preview at Prairie View in Carmel. The Lady Bulldogs then visit Columbus East on Monday before competing in the Connersville Invitational on Tuesday.