Lady Bulldogs repeat, three advance at sectional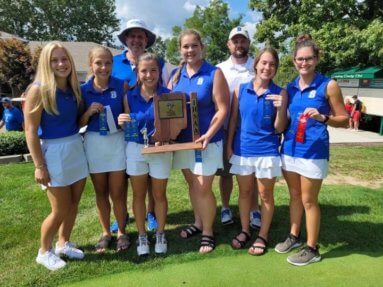 PHOTO COURTESY OF BATESVILLE ATHLETICS
Batesville dominated by nearly 100 strokes and three other coverage area teams saw a golfer keep their season alive as the Lady Bulldogs repeated as sectional champions at the IHSAA Girls Golf Sectional Tournament on Saturday at the Greensburg Country Club.

The Lady Bulldogs had no trouble in the sectional field when it came to team play. Batesville won the tournament with a dominant team score of 328 while runner-up Greensburg sat back at 423 and Rushville was third with a 430. East Central and Milan rounded out the team standings with a 438 and 462 respectively. Jac-Cen-Del and Oldenburg Academy competed but did not qualify for a team score.

Batesville not only boasted the team title but top golfer Emma Weiler again dazzled on the course and repeated as individual sectional champion. Weiler, a junior, won the sectional in 2020 with an 18-hole score of 87 but her 2021 performance of an 18-hole score of 67 was not only three shots under par, but also a personal-best and 18-hole school record. Aside from her two championship performances, she was also the sectional runner-up as a freshman in 2019.

Josie Meyer and Addyson Weiler of the Lady Bulldogs finished second and third overall in the tournament as Meyer posted an 80 and Weiler shot an 82. Tori Harpring was the final Batesville golfer in the scoring round, shooting a 99. Chloe Murphy shot a 113 in the non-scoring round.

Milan did not qualify for the regional as a team but will send Kayla Walke to the regional as an individual golfer. Walke shot a 100 for the day to advance while Cami Prather carded a 113, Jade Haney shot a 120 and Natalie Prather shot a 129. Mackinze Deffinger recorded a 130 in the non-scoring round.

2020 regional qualifier Emerald Simmonds of Oldenburg Academy also managed to punch a ticket to the 2021 regional after shooting a 102. The Lady Twisters also got a 122 from Ava Allen and a 124 from Clara Walke. Jac-Cen-Del was the final coverage area team with a regional qualifier after Tracy McKittrick qualified with a score of 96. The number comes just two days after McKittrick fired a nine-hole 48 and earned medalist honors in the regular season finale on Thursday.

Jac-Cen-Del golfers on Saturday also included Ally Mosier with a 131 and Emma Wagner with a 133.

Batesville alongside Walke, Simmonds and McKittrick will compete in the IHSAA Regional on Saturday hosted by Lapel High School. The tournament will take place at the Edgewood Golf Course with tee times beginning at 9 a.m.