Lady Bulldogs sweep EIAC titles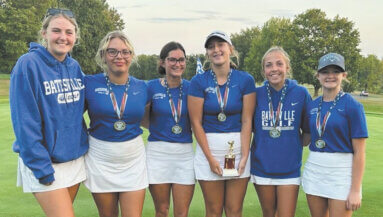 PHOTO COURTESY OF BATESVILLE GOLF
Batesville put all five of its golfers on the All-Conference Team and the Lady Bulldogs had no problems in laying claim to the Eastern Indiana Athletic Conference Girls Golf Championship on Saturday at the Greensburg Country Club.
It was a repeat championship performance for the Lady Bulldogs who continue to go undefeated against conference opponents. Batesville won on Saturday by 38 strokes.
The Lady Bulldogs finished with an 18-hole team score of 321 and Franklin County was runner-up at 359. East Central placed third with a 394, Rushville followed in fourth at 401 and Greensburg rounded out the top five with a 441. Connersville (445) and Lawrenceburg (476) concluded the standings while South Dearborn competed but did not field a scoring team.
Not only did Batesville take the team championship but Ava South made sure they also came back with an individual conference crown. The Lady Bulldog sophomore shot an even-par 70, laying claim to her second-straight EIAC title and earning Conference MVP honors once again. The rest of her teammates would follow her on the All-EIAC Team.
Josie Meyer finished the day with a 76 and Addyson Weiler shot an 84. Alexis Gallagher rounded out Batesville scoring with a 91 while Zoey Ahern carded a 94 to earn an All-Conference despite her 18 holes coming in a non-scoring round.
Batesville's overall record sits at 78-21 on the season. The Lady Bulldogs play at Greensburg this afternoon.