Lady Bulldogs too much for Milan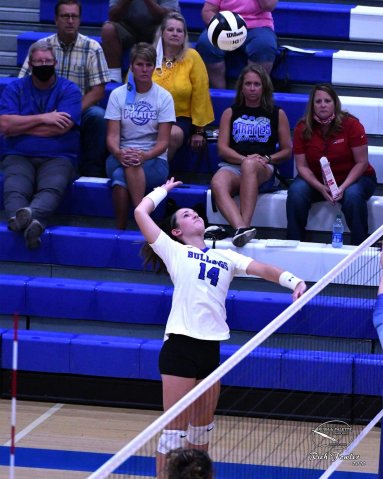 Photo by Rich Fowler
Milan's youth found itself inside a measuring stick kind of contest in Saturday's volleyball season opener and the result was an early learning experience as a seasoned Batesville squad came away with a 3-0 win at home over the Lady Indians.

Batesville's veterans led the way in a dominating 25-7 first set before Milan shook off the early jitters and competed the rest of the way despite losing the next two sets. The Lady Bulldogs remained in control in set two with a 25-17 victory before finally pulling away in set three for a 25-19 win to complete the sweep.

Senior Shelby Westerfeld led Batesville with nine kills while junior Cayman Werner collected seven kills and senior Sophie Lee had five. Isabelle Westerfeld had six of the team's 21 aces, Lainey Walsman had 13 digs and Werner led with 15 assists. Ava Powner added 12 assists in the match.

Milan statistics were not received by time of print.

Batesville (1-0) visited South Ripley on Monday in a county rivalry matchup and is set to play Madison tonight on the road.
Milan (0-1) visits South Dearborn this evening before hosting Waldron on Thursday.