Lady Eagles beat Whiteland, win Edinburgh Tournament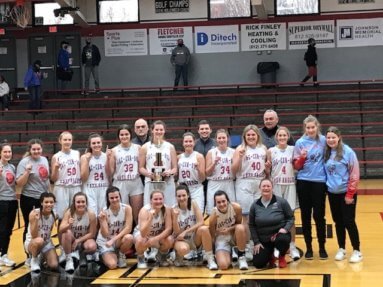 SUBMITTED PHOTO
Class A No. 5 Jac-Cen-Del grabbed an early double-digit lead and never looked back, defeating Whiteland 63-48 to claim the 2020 Edinburgh Holiday Classic girls basketball championship last Tuesday.

The Lady Eagles dominated Hagerstown and Hauser the prior day to earn a spot in the title game. It is the fourth-straight holiday tournament title for Jac-Cen-Del.

Jac-Cen-Del got off to a hot start against Whiteland, opening up a 17-7 lead through the first eight minutes and extending the advantage out to 14 points by halftime. The Lady Eagles led 48-29 after three quarters before the Lady Warriors were able to slightly cut into the deficit in the fourth period.

"It was a great team win," Jac-Cen-Del head coach Scott Smith said. "Whiteland is a very athletic team. Anna Hubbard suffered an injury for us but we had great team support and great bench contributions. She (Hubbard) is expected to be fine with several days rest."

Hubbard scored nine points prior to her injury and Jac-Cen-Del had seven other players in the score column. Paige Ledford led the way, recording a double-double of 20 points and 12 rebounds. Jalee Rider scored in double figures with 10 points. The Lady Eagles shot 55 percent from the field and was 81 percent from the free throw line.

Whiteland (4-7) was led by Braylyn Clendenen with 20 points and Muskaan Ghuman added 11 points. The Lady Warriors were held to 36 percent shooting for the game.

Jac-Cen-Del (10-2) faces a huge test on Wednesday when they host Class 4A No. 4 East Central (7-1).