Lady Eagles blast South Ripley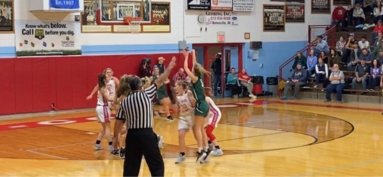 SUBMITTED PHOTO
South Ripley's roster continues to be less than 100 percent healthy and Class A No. 4 Jac-Cen-Del took full advantage, racing out to a large lead early en route to a 57-31 win on Saturday night in Osgood.

The victory was part of the first game between the two squads in the regular season and does not count towards the Ohio River Valley Conference girls basketball standings. Jac-Cen-Del and South Ripley could meet in the Ripley County Tournament in January and the scheduled January 25 clash in Versailles will be a conference game.

Jac-Cen-Del put up double-digit points in each of the four quarters including a 20-point opening stanza that saw the host school rack up a 20-9 lead after the first eight minutes. The Lady Eagles went for 14 more points before halftime as the lead grew to 16 points and a 13-5 run in the third frame officially put the game on ice. South Ripley was outscored by just two points in the fourth quarter but was able to just put up eight points and never threatened at a serious comeback.

Guard play paced the Lady Eagles on offense as Aundrea Cullen knocked down four 3-pointers and finished with 12 points while Annabelle Williams had two trifectas and 13 points. Desiree Sparks led all scorers with 16 points on 50 percent shooting and collected a team-high six rebounds. She shared team-high honors with Reese Obendorf.

Jalee Rider had three steals and three assists while Williams and Reagan Hughes each had three assists and a steal apiece.

Eight players hit the score column for South Ripley but nobody hit double figure scoring. Emily Flood led with seven points while Lydia Cornett and Katelynn Samples each had five points. The Lady Raiders were plagued by poor shooting including a 3-of-15 performance from the free throw line.

Jac-Cen-Del (3-0) is at Milan tonight for an Ohio River Valley Conference rivalry game while South Ripley (2-2) looks to bounce back tonight on the road at South Decatur.
SATURDAY'S GIRLS BASKETBALL GAME
at JAC-CEN-DEL
CLASS A NO. 4 JAC-CEN-DEL 57, SOUTH RIPLEY 31
SR – 9 9 5 8 – 31
JCD – 20 14 13 10 – 57
S. RIPLEY (2-2) Emily Flood 7, Katelynn Samples 5, Lydia Cornett 5, Gracie Gunter 4, Sarah Meyer 3, Lexi Mozingo 3, Alexa Heidt 2, Mya McNew 2, Lexi Franklin 0, Suzie Gunter 0.
JAC-CEN-DEL (3-0) – Desiree Sparks 16, Annabelle Williams 13, Aundrea Cullen 12, Olivia Neal 6, Emma Newhart 4, Reagan Hughes 2, Jalee Rider 2, Reese OBendorf 2, Julia Meyer 0, Kelsey Borgman 0.
3-Point Goals – SR 2 (Meyer 1, Cornett 1), JCD 6 (Cullen 4, Williams 2). Total Fouls – SR 18, JCD 17. Free Throws – SR 3-15, JCD 15-20. Fouled Out – SR: Heidt, JCD: Neal.