Lady Eagles defeat Lady Raiders 60-38 for ORVC win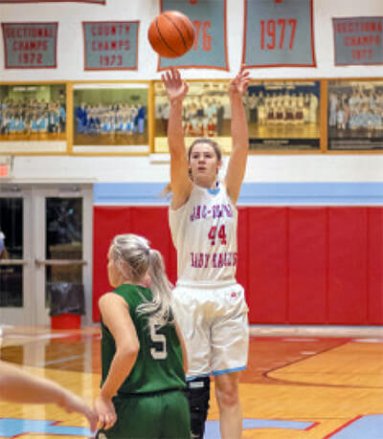 Jared Rogers Photos
The South Ripley Lady Raiders traveled to Osgood on Tuesday, January 22 to compete against their rival host team, the Jac-Cen-Del Lady Eagles. It was the third time the teams met this season. In addition to deciding who would come out with the most wins in head-to-head play, the game was to decide who would improve their Ohio River Valley Conference record, and potentially, win the conference.
South Ripley won the first match the two played by a score of 63-46 on November 10 in Versailles. Jac-Cen-Del then won the second match by a score of 52-49 in the final of the Ripley County Tournament. SR entered Tuesday's match with an overall record of 14-6. They were on a four game winning streak, having not been beaten since that RCT final game. JCD entered the game 16-5, on a three game winning streak of their own. For the season, both sides were evenly matched in points per game, with SR averaging 51.3 as a team, and JCD 52.8.
The first half of the game was a back-and-forth affair, with the lead never getting much over one or two points for either team. JCD's Anna Hubbard hit an early first quarter three-pointer for her team, while SR's Jill Scott hit back-to-back field goals for the Raiders soon after to keep her team in the mix.
The second quarter saw JCD's Jalee Rider stealing the ball just as it was inbounded on the SR side and driving to the opposite basket for a two-point fast break. SR maintained their composure, however, continuing to move the ball effectively on offense. The game went to the halftime break at 28-26 in favor of JCD, a score that accurately reflected how evenly matched the first sixteen minutes of the game were.
After battling for points inside the paint during the first half, SR's Elexah Roepke nailed a three pointer to open the second half. Early misses by JCD, coupled with a hoop and the harm on SR's Cierra Copeland helped the Lady Raiders build a five point lead, which to that point was the largest of the game for either team.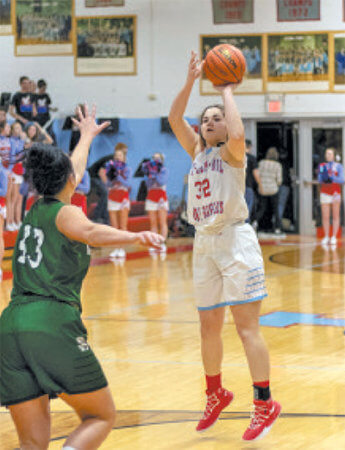 The midway mark in the third quarter proved to be the turning point in the game. After pulling back within two points, JCD sophomore Paige Ledford swished a three pointer to give her team a one point lead. After a defensive stop, Ledford was again fed the ball behind the three point line, where she hit her second in a row. Then, after a quick SR turnover, Ledford scored an inside field goal to give her eight points within about one minute of play, which forced a timeout for the green team. JCD continued their momentum coming out of the break, with Jalee Rider and Annabelle Williams hitting back-to-back field goals, bringing the scoring run to 12-0 for JCD.
Late in the quarter, SR was able to stop the run with a field goal by Copeland, but the Lady Raiders could never regain their flow from that point forward. JCD continued to build the lead, which reached 20 points by about two minutes to play in regulation. The final buzzer rang with the scoreboard reading 60-38 in favor of the Lady Eagles.
Lady Eagles senior guard Mariah Day led all scorers with 21. Those points came from three, three pointers, and going 10 for 11 from the stripe. Also scoring for JCD: Paige Ledford 14, Annabelle Williams eight (two, three pointers), Regan Carroll six, Anna Hubbard five, Jalee Rider four, Kadee Kuhn two, and Emma Tunny two. In addition to her scoring run and total of 14 points, Paige Ledford pulled down ## rebounds, which solidified her eleventh double-double of the season.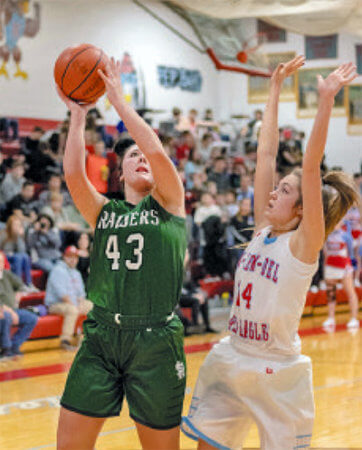 Lady Raiders forward Cierra Copeland led her team with 14 points. Also scoring for SR: Elexah Roepke 10 (5/5 FTs), Morgan Peetz five, Jill Scott four, LJ McQueen four, and Lindsey Meyer one. As a team, the Lady Raiders continued their strong free throw shooting skills by going 10 for 12 from the stripe.
Reflecting on the game, Lady Eagles Head Coach Scott Smith told the Versailles Republican, "Both of us were trying to take away our best scorers. That left jump shots open on both sides, and our players were able to hit some jump shots." He commended South Ripley on their effort, and said he felt fortunate that his team was able to go on a run to open up a lead in the game. "I'm really happy with our kids and hopefully this gets us ready and hungry to go into the sectional," said Smith.
After the scoring run by Ledford and her teammates, JCD held a 10-point lead with the entire fourth quarter to play. The run broke open a wave of positive emotions for Lady Eagles players and fans, and Coach Smith acknowledged that he had to help reign in some of those emotions in order to stay ahead. "You love the enthusiasm, and you want them to enjoy it, but when there's seven minutes left in the game, you have to finish," he said of the situation.
With the rivalry match behind them, each team has one regular season game left. SR is scheduled to play Switzerland County, a team they beat 44-33 in December. JCD will compete against Southwestern-Hanover. Both games are set for Thursday, January 24, and both will count towards ORVC records. Should JCD win their game, they will win the ORVC outright regardless of SR's outcome. Should JCD lose, and SR win, the two teams will share the conference title for the 2018-19 season. In a scenario where both teams lost, JCD would still maintain the outright championship.