Lady Eagles dominate sectional opener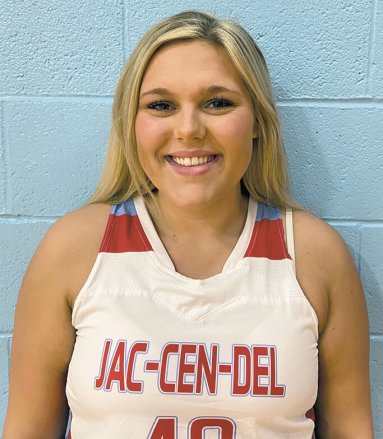 PHOTO COURTESY OF JCD GIRLS BB
It has been widely-noted that Jac-Cen-Del is the Class A Sectional 60 favorite and the Lady Eagles played that role on Tuesday night with a dominant 64-19 win over Waldron in the opening round at Southwestern (Shelby).

The win guarantees that a new champion will be crowned in Sectional 60. Waldron (5-18) came in as the defending title holder after making a run to last year's Class A Final Four with a senior-laden roster.

Jac-Cen-Del has now won seven of its last eight games with this last contest perhaps being its most dominant in that stretch. That fact alone is not too shabby considering the Lady Eagles only beat the Lady Mohawks 47-33 on December 6, having to pull away late in the second half for a double-digit win.

The Lady Eagles made sure Tuesday night was never close, storming out to a 21-2 margin in the first quarter and never looking back from there, eventually forcing a second half mercy rule once the advantage reached 35 points. A 20-9 run made for a 41-11 halftime advantage and Jac-Cen-Del's lead only piled up in the third quarter as part of an 11-2 surge. Waldron was outscored 12-4 in the final eight minutes.

Two of Jac-Cen-Del's top scorers did significant damage on Tuesday night and Waldron's defense was never able to keep up. Senior Olivia Neal dazzled with 20 first half points and finished her evening leading all scorers with 22 points. Reagan Hughes added to the fun, drilling three 3-pointers and scoring 19 points. 11 of those points came in the second half.

Four other players hit the score column for the Lady Eagles. Sophia Sullivan added eight points while Kelsey Borgman and Julia Meyer went for seven points and six points respectively. Kaylin Hinners hit a shot in the first quarter for two points.

Waldron was led by Josee Larrison's six points but the remaining five scorers for the Lady Mohawks did not score more than four points apiece.
Jac-Cen-Del (13-11) now faces Southwestern (Shelby) in Friday night's first semifinal. The second semifinal will feature the winners of Wednesday night's games featuring Oldenburg Academy/South Decatur and Morristown/Edinburgh.

The Lady Eagles beat Southwestern 58-18 on January 13. A Saturday night title game would begin at 7:30 p.m.
CLASS A SECTIONAL 60
at Southwestern (Shelby)
JAC-CEN-DEL 64, WALDRON 19
JCD – 21 20 11 12 – 64
Waldron – 2 9 2 6 – 19
JCD (13-11) – Olivia Neal 22, Reagan Hughes 19, Sophia Sullivan 8, Kelsey Borgman 7, Julia Meyer 6, Kaylin Hinners 2, Cheyenne Cullen 0, Savannah Steele 0, Brooklyn Simon 0, Ashlynn Moorman 0, Lanie Narwold 0.
Waldron (5-18) – Josee Larrison 6, Emerson Lindsey 4, Audrey Hogg 3, Alyssa Benson 2, Jackie Corlett 2, Riley Price 2, Cendall Sheaffer 0, Alivia Fischer 0, Evelyn Campbell 0, Leala Taylor 0, Madison Ping 0, Cate Crouch 0.
3-Point Goals – JCD 7 (Hughes 3, Neal 2, Borgman 1, Meyer 1), W 1 (Hogg 1). Total Fouls – JCD 5, W 14. Free Throws – JCD 13-17, W 0-2. Fouled Out – None.