Lady Eagles head back to semi-state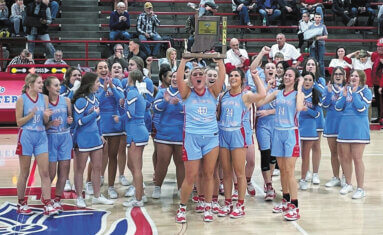 PHOTOS COURTESY OF JCD SPORTS
Class A No. 13 Jac-Cen-Del found itself as a favorite in its Class A Regional Championship game on Saturday afternoon at Southwestern (Shelby) and the Lady Eagles played the part, continuing their postseason run with a 58-46 win over Bethesda Christian.

The Lady Eagles are regional champions and semi-state bound for the first time since 2016 when they won the Class A State Championship. Jac-Cen-Del has now won nine regional titles in program history with five of those coming since 2011.

Jac-Cen-Del couldn't have put together a better start in terms of offense, scoring from the get-go and pacing itself out to an early 18-15 lead before a 15-10 second quarter spurt allowed the advantage to hit 33-25 by halftime. A low-scoring third frame kept the game close as both teams failed to score 10 points or more but the Lady Eagles got back in sync when it mattered most, scorching the nets for 19 points in the fourth quarter to finally pull away and advance to the "Elite 8."

"It was an awesome JCD crowd at Eagles Nest North (Southwestern)," Jac-Cen-Del head coach Scott Smith said about Saturday. "It was a great team win. Unbelievably proud of the continued effort these kids have made this year."

In terms of scoring, Jac-Cen-Del's top three scorers on the season came up big on the regional stage, all finishing in doublefigures. Reagan Hughes shrugged off a low-scoring sectional championship contest and came back big with 18 points while Julia Meyer added 14 points and Olivia Neal put in 11 points. Kaylin Hinners was a spark with eight points and Kelsey Borgman finished with seven points.

Meyer finished with team-highs of six rebounds and six assists while Neal had six boards and Hinners came up with five rebounds and three steals. Jac-Cen-Del's offense was sparked by 47 percent shooting overall and an impressive 7-of-13 mark from the three-point line for 54 percent.

The Lady Eagles also were the beneficiary of 22 total fouls by Bethesda, resulting in 32 free throw attempts. Jac-Cen-Del connected on 21 freebies, holding 13-point advantage at the charity stripe.

Bethesda (12-14) saw senior Paige Vawter lead all scorers with 20 points and junior Kenzie Fulks with 18 points but no other Lady Patriot scored more than four points as the offense shot just 36 percent from the field. Jac-Cen-Del's defense forced its regional foe into 19 turnovers while allowing only 18 rebounds.

Jac-Cen-Del (16-11) heads to the Class A South Semi-State on Saturday at New Albany and faces Bloomfield (14-14) in the 10 a.m. opening round game. Game two features No. 1 ranked Lanesville (25-2) against No. 4 Trinity Lutheran (22-6). The two winners will meet for the semi-state championship at 8 p.m. with a trip to the state finals on the line.

The Lady Eagles are 2-2 all-time against Bloomfield in the state tournament, having defeated the Lady Cardinals in back-to-back regional semifinal games in 2016 and 2017. Jac-Cen-Del's two losses to them were in semi-state championship games in 1976 and 1977.
SATURDAY'S
CLASS A REGIONAL
CHAMPIONSHIP
at Southwestern (Shelby)
CLASS A NO. 13
JAC-CEN-DEL 58, BETHESDA
CHRISTIAN 46
BC – 15 10 7 14 – 46
JCD – 18 15 6 19 – 58
BETHESDA (12-14) – Paige Vawter 20, Kenzie Fulks 18, Sydney Goodin 4, Leah Heim 2, Jayla Ferguson 2, Lindsey Dodson 0.
JCD (16-11) – Reagan Hughes 18, Julia Meyer 14, Olivia Neal 11, Kaylin Hinners 8, Kelsey Borgman 7, Sophia Sullivan 0.
3-Point Goals – BC 6 (Vawter 3, Fulks 3), JCD 7 (Hughes 4, Borgman 2, Hinners 1). Rebounds – BC 18 (Fulks 6), JCD 18 (Neal 6, Meyer 6). Assists – BC 10 (Goodin 2, Vawter 2, Ferguson 2, Fulks 2), JCD 15 (Meyer 6). Turnovers – BC 19, JCD 16. Total Fouls – BC 22, JCD 12. Free Throws – BC 8-12, JCD 21-32. Fouled Out – BC: Ferguson.