Lady Eagles head to sectional finals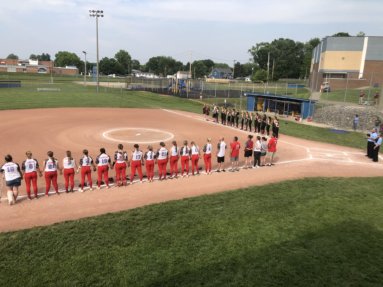 Photo Courtesy of Rising Sun Athletics
Jac-Cen-Del softball took advantage of a favorable draw, 13 hits and six South Decatur errors en route to a Class A Sectional 60 championship game appearance, defeating the Lady Cougars 15-0 in five innings in the sectional semifinal round at Rising Sun on Tuesday night.
The Lady Eagles received a bye to the semifinals as part of the sectional draw earlier this month. Jac-Cen-Del looks for its first sectional championship since 2008. 
The Osgood crew wasted no time on Tuesday, collecting six runs in the bottom of the first inning and making it a 7-0 lead after the second frame. Jac-Cen-Del then tacked on three runs in the bottom of the third and five runs in the bottom of the fourth to push the advantage out even more. The game ended by 10-run rule in the fifth inning. 
Shaylee Volz hit a double for the Lady Eagles and was 3-for-4 with two RBIs and two runs scored. Aundrea Cullen, Tobie Benefiel, Shelby Groth and Regan Richter each had two hits with Benefiel and Groth each knocking in three runs. Cullen hit a triple and scored three runs. 
Erynn Dyer and Ali Jameson each had a hit for South Decatur. 
Cullen stepped inside the circle for Jac-Cen-Del and twirled a two-hit shutout. The Lady Eagle ace struck out seven with no walks and threw just 67 pitches. South Decatur's Loryn Pate was tagged with the loss and allowed 10 runs -six earned- on nine hits with two strikeouts and two walks. 
Jac-Cen-Del (7-15) squares off with Class A No. 11 Hauser (23-4) in the championship game tonight at 6 p.m. The Lady Jets defeated the Lady Eagles 14-2 on May 1. 
Hauser defeated Oldenburg Academy 15-0 in five innings in the second semifinal on Tuesday after scoring 12 runs combined in the first two innings. Statistics for the game were not reported by time of print.