Lady Eagles notch two huge wins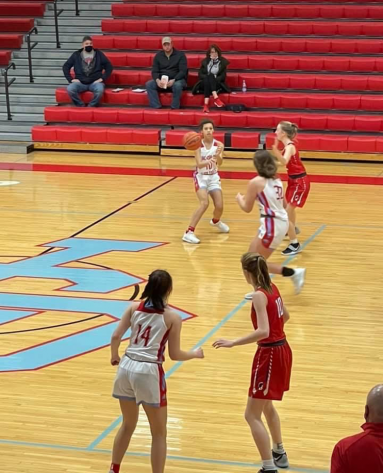 Photo by JCD Sports
Class A No. 3 Jac-Cen-Del put its entire skill set to use at various times on Friday and Saturday night and the payoff was a pair of impressive wins over Southwestern (Shelby) and Class 3A No. 12 Greensburg over the weekend in girls basketball action.

Friday night kicked off the festivities as the Lady Eagles swatted away a pesky Southwestern team, winning 49-31 at home in a matchup of two Class A Sectional 60 teams.

Jac-Cen-Del started strong on offense and led 16-4 but even when offense died down, defense prevailed. The Lady Spartans cut into the deficit by a basket before halftime but the Lady Eagles clamped down to open the second half, holding Southwestern to only four points in the third quarter.

The lead stretched back out in the process and the Lady Eagles finished the night maintaining a double-digit lead.

"Great defensive effort versus a stubborn and well-coached Spartan team," Jac-Cen-Del head coach Scott Smith said. "Shots were not falling but free throws and defense helped us win. Biggest loss was Anna Hubbard to a fourth quarter knee injury. Status unknown at this time but we are hopeful for a speedy return for conference and sectionals."

Despite a 28 percent shooting night, Jac-Cen-Del put three players in double figures as Paige Ledford led with a double-double of 17 points and 15 rebounds. Kadee Kuhn and Annabelle Williams each scored 10 points. The Lady Eagles were 18-of-21 from the free throw line and grabbed 37 rebounds.

Southwestern was led by Maggie Correll with seven points.

Jac-Cen-Del made it a clean sweep on Saturday night in a highly-anticipated game that saw the Lady Eagles hit the road and come home with a 48-39 over Greensburg.

The two teams played to within a couple of possessions through the first half as Jac-Cen-Del led by three at the end of the first quarter and increased the advantage to 22-17 at intermission. The third quarter proved to be pivotal as the Lady Eagles emerged for 19 points and held Greensburg to only 11 points.

Greensburg recovered in the final frame and outscored Jac-Cen-Del 11-7 but the third quarter surge was enough for the Lady Eagles to stay over the hump and preserve the non-conference win.

Seven players contributed to the scoring cause for Jac-Cen-Del with Ledford again leading, this time with 12 points to go with nine rebounds. Reagan Hughes and Jalee Rider each scored nine points.

Greensburg was led by Taylor Cooney with 16 points and Melina Wilkison added 10 points.

Jac-Cen-Del (16-3) is scheduled to play Switzerland County tonight and Rising Sun on Thursday in a pair of Ohio River Valley Conference games on the road.
FRIDAY'S GIRLS BASKETBALL GAME at Jac-Cen-Del
CLASS A NO. 3 JAC-CEN-DEL 49, SOUTHWESTERN (SHELBY) 31
SW – 4 12 4 11 – 31
JCD – 16 10 16 7 – 49
SW (9-6) – Maggie Correll 7, Abby Muck 6, Alison Muck 6, Trinity Tatlock 6, Lily Kerber 3, Kennedy Pile 3, Lilly Rooks 0, Lexi Wilkins 0, McKinlley Correll 0.
JCD (13-3) – Paige Ledford 17, Annabelle Williams 10, Kadee Kuhn 10, Dillan Hughes 4, Desiree Sparks 4, Anna Hubbard 2, Jalee Rider 2, Reagan Hughes 0, Aundrea Cullen 0.
3-Point Goals – SW 1 (Kerber 1), JCD 3 (D.Hughes 1, Williams 1, Kuhn 1). Total Fouls – SW 15, JCD 15. Free Throws – SW 14-22, JCD 18-21. Fouled Out – SW: Kerber, JCD: Kuhn.
SATURDAY'S GIRLS BASKETBALL GAME at Greensburg
CLASS A NO. 3 JAC-CEN-DEL 48, CLASS 3A NO. 12 GREENSBURG 39
JCD – 10 18 13 7 – 48
GB – 7 10 11 11 – 39
JCD (14-3) – Paige Ledford 12, Reagan Hughes 9, Jalee Rider 9, Annabelle Williams 8, Kadee Kuhn 6, Desiree Sparks 2, Dillan Hughes 2, Aundrea Cullen 0, Emma Newhart 0, Olivia Neal 0, Julia Meyer 0.
GB (9-5) – Taylor Cooney 16, Melina Wilkison 10, Anna West 4, Carlee Adams 4, Janae Comer 2, Jenna Foster 0, Emilee Ernstes 0.
3-Point Goals – JCD 1 (Kuhn 1), GB 3 (Cooney 2, Wilkison 1). Total Fouls – JCD 11, GB 16. Free Throws – JCD 15-26, GB 4-9. Fouled Out – None.