Lady Eagles reclaim Pride Trophy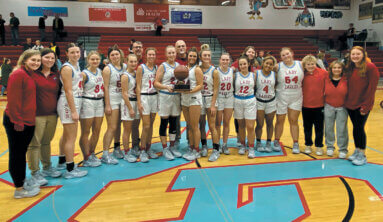 JULIE POLLOCK ELLIOTT PHOTO
Class A No. 9 Jac-Cen-Del girls basketball broke free of a four-game losing skid to its top county nemesis on Saturday, using back-to-back runs in the second and third quarter to pull away from South Ripley 41-22 in Osgood.
The win allowed the Lady Eagles their first win over South Ripley since November of 2021. Jac-Cen-Del is now back in possession of the Ripley Publishing Pride Trophy for the first time since 2022.
By no means was Saturday night's rivalry matchup going to see either offense win a beauty contest given the fact that both squads struggled mightily from the field but the Lady Eagles had some luck in the second and third quarters when it came to making buckets. After leading just 7-6 after the first eight minutes, Jac-Cen-Del went on a 15-4 run in the second period, using six points apiece by Julia Meyer and Reagan Hughes to push ahead 22-10 at halftime.
That would be followed in the third quarter by Kelsey Borgman's outburst. Borgman canned three 3-pointers to open the second half, scoring 11 points in the third frame as Jac-Cen-Del's margin increased to 17 points. By the fourth quarter, enough damage had been done by the Lady Eagles and a combined six points by the two teams in the final stanza was practically forgotten with the result not in question.
A brief 6-of-9 clip from the field in the second quarter was instrumental in allowing Jac-Cen-Del to take control of the game but the Lady Eagles would struggle outside of that, shooting just 35 percent. Despite that fact, Borgman did finish with 16 points and Meyer added 10 points. Hughes scored all eight of her points in the first half.
South Ripley was the victim of its worst shooting performance so far this season. Outside of a 10-for-10 performance from the free throw line, the Lady Raiders shot 6-of-38 from the field and were 0-of-12 from the three-point line. Lexi Franklin finished as the leading scorer with six points.
The Lady Raiders (2-2) get another road test tonight when they visit Class A No. 16 South Decatur. Jac-Cen-Del (2-1) is at Milan this evening for an Ohio River Valley Conference matchup.
SATURDAY'S GIRLS BASKETBALL GAME
at Jac-Cen-Del
CLASS A NO. 9 JAC-CEN-DEL 41,
SOUTH RIPLEY 22
SR – 6 4 10 2 – 22
JCD – 7 15 15 4 – 41
SR (2-2) – Lexi Franklin 6, Suzie Gunter 4, Claire Samples 4, Morgan Brightwell 2, Lydia Cornett 2, Emily Parks 2, Aubrey Werner 0, Ellie Combs 0.
JCD (2-1) – Kelsey Borgman 16, Julia Meyer 10, Reagan Hughes 8, Sophia Sullivan 3, Kaylin Hinners 2, Savannah Steele 2, Brooklyn Simon 0, Cheyene Cullen 0, Lanie Narwold 0, Brynlie Simon 0.
3-Point Goals – SR 0, JCD 6 (Borgman 4, Hughes 2). Rebounds – SR 32, JCD 33. Turnovers – SR 12, JCD 17. Total Fouls – SR 10, JCD 14. Free Throws – SR 10-10, JCD 9-10. Fouled Out – None.