Lady Eagles take 9-2 record to holiday break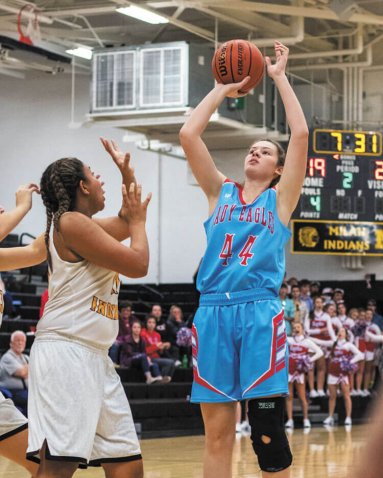 JARED ROGERS PHOTO
The Jac-Cen-Del Lady Eagles varsity basketball team is in the midst of a 12-day holiday break while enjoying an impressive midseason record of nine wins versus only two losses.

In recent action, the Lady Eagles are 2-1 with wins over Waldron and Morristown and a loss to East Central.

The red and blue squad traveled to Waldron on Dec. 10 for the first time since their five overtime sectional championship victory last February.

The 3-5 Lady Mohawks (now 4-6) appeared to remember that loss, as they held a narrow lead through all three quarter stops. The scoreboard read 12-11 Waldron after one, 25-22 at half, and 33-28 after three quarters.

A 16-6 fourth quarter in JCD's favor was enough to overcome the deficit and win by five, though, at 44-39.

Anna Hubbard led the Lady Eagles with 13 points in the match, and Paige Ledford followed her with 11. Ledford also pulled down 10 rebounds for a double-double. Dillan Hughes led her team with three assists.

JCD traveled to Morristown on Dec. 14 where they defeated the hosting Lady Yellow Jackets 56-41. The visitors led at every quarter stop on the way to victory.

Ledford led all scorers with 18 points. Annabelle Williams backed her up with 14, and Kadee Kuhn added 12. Ledford and Hubbard each pulled down nine rebounds, while Regan Carroll added eight and Williams seven. Williams led the team with five assists and two steals, while Hubbard blocked eight shots.

The Lady Eagles then finished their pre-holiday road trip with a visit to the Class 4A East Central Lady Trojans. The hosts proved too powerful and defeated JCD 78-38. That loss snapped a nine game win streak by the Lady Eagles and solidified their 9-2 record. They are 2-0 in ORVC play.

The junior varsity Lady Eagles are also 9-2, 2-0 in the ORVC. The younger team defeated Waldron 36-32 and Morristown 48-29 before falling to East Central 60-25.

JCD girls are back in action on Dec. 30 when they host North Decatur. The Lady Chargers are currently 5-6 on their season.